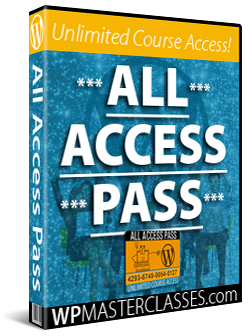 - December 29, 2018 /NewsNetwork/ —
WP Masterclasses has announced the launch of a new all access pass membership plan giving users unlimited access to dozens of video courses with over 1,300 video lessons to improve their WordPress and digital business skills. The WordPress video training platform offers a huge range of content covering every aspect of WordPress use, from installation to maintenance, editing, SEO, design, traffic automation, and lead generation.
More information can be found at: https://wpmasterclasses.com/video-courses/all-access-pass-membership
The new membership option has been created to meet the growing demand for quality digital skills training in areas like WordPress, digital business, and digital marketing.
WordPress is the world's leading website content management system, powering over 30% of all website. Now, using the new membership option from WPMasterclasses.com, more companies can master using the WordPress platform to grow their web presence and improve their results online.
One of the key benefits of the courses available through WPMasterclasses.com is that the videos are aimed at non-technical users and beginners running small businesses. This helps them to develop their skills, and master WordPress, developing effective, engaging sites that bring in more leads and make more sales.
WP Masterclassses provides high quality video training on WordPress use at affordable prices. This gives every business owner the opportunity to develop their skills and create a more effective digital presence.
The new membership option is ideal for small business owners, WordPress site owners, or anyone thinking of starting a business online. Having 24/7 access to a growing library of practical video courses and over 1,300 video tutorials for a low subscription fee, anyone can create a highly effective site with SEO optimized content with no technical or web coding skills required.
With new videos being added on a regular basis, users can be assured that there will always be something new to learn, or a new way to develop, grow, or improve their site or digital strategy.
Video courses can be accessed online from any device, and many lessons include links to detailed, step-by-step tutorials and additional resources.
Martin Aranovitch, the founder of WPMasterclasses.com, states: "Businesses can save time, save money, get important things done faster, and get better results online when they are empowered with basic digital skills that allow them to better understand, control, and manage their online presence and their digital marketing campaigns."
He adds: "Our growing library of WordPress and digital business video courses and tutorials is designed to empower and help businesses and their staff acquire these skills and gain the competence to run their digital business presence more effectively and at minimal cost."
Full details can be found on the URL above.
Release ID: 464593