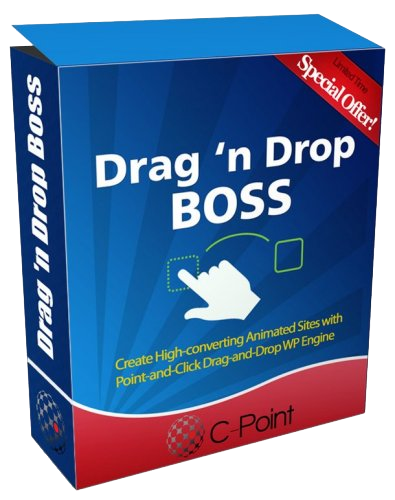 - November 19, 2016 /PressCable/ —
A new website generation software has launched offering business owners the chance to create a powerful SEO friendly website from scratch in a fraction of the time it takes to design by hand. Called Drag 'n' Drop Boss, it is designed to help make the website creation process as easy as possible, using a visual designer and a point and click, drag and drop interface.
More information can be found on the company website at: http://dragdropboss.com/about.
The site explains that Drag 'n' Drop Boss allows users to create sales pages, opt in pages, and a range of other pages in quick order, by making use of templates and editing then visually through the highly powerful visual interface. This means that users get all that they need in order to present, promote and deliver any digital products.
One of the problems when it comes to making websites from scratch is that it is a time consuming process, with each page requiring different features, and a large amount of testing to get right. In addition to this, it can be hard to design pages in a way that are both SEO friendly and created with the ability to go viral in mind.
Drag 'n' Drop Boss was created so as to make the design process as easy as possible, allowing websites to get up and running much faster than they previously could. The pages created through this process can make for powerful hubs for high-converting products and viral pages to impress the audience of the business.
The site emphasises that up until now, WordPress users have had to rely have had to rely on a diverse set of tools, plugins and themes in order to market their company. The problem with this method is that sites can often look inconsistent. With Drag 'n' Drop Boss, sites can be developed with a uniform professional look.
Using the software can allow business owners to experience WordPress in a new way. A full list of features is provided on the company website.
Release ID: 147867