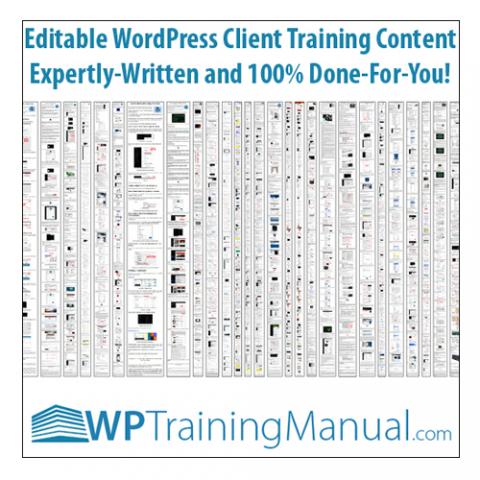 - November 1, 2020 /PressCable/ —
WordPress service providers and website developers can now access a complete done-for-you editable and brandable system that will help them train their clients to use their WordPress websites more effectively.
WordPress is the world's leading content management system (CMS), powering over one-third of all business websites worldwide.
WordPress is open source software designed to put website owners in complete control of their web presence. It is also continually evolving, as thousands of web developers contribute to its development.
As a result, many website developers struggle to provide their clients with up-to-date training resources such as WordPress training handbooks or manuals with comprehensive and detailed instructions to help new WordPress users master the features of their own websites.
While many websites offer free WordPress tutorials, these are mostly aimed at helping other web developers and require technical skills and knowledge of editing code to understand and apply the content. Most WordPress end-users are regular businesses, operated by non-techies.
WPTrainingManual.com addresses the challenge of providing clients with up-to-date WordPress training that will fully empower them to use their websites effectively with their WordPress white label client training content service.
Created by Martin Aranovitch, an experienced WordPress trainer with 14+ years of WordPress knowledge, the site provides web developers with a 500+ page brandable WordPress User manual, editable manual documentation, a client training site template that members can set up on their own domain, over 120+ editable WordPress tutorials for beginners and non-techies covering in step-by-step detail every aspect of using a WordPress website effectively, plus editable client training email courses that WordPress businesses can use to educate and teach clients, and upsell their services, editable lead generation reports, and unlimited reseller access to a WordPress and digital business video membership site containing dozens of video courses with over 2,000+ video lessons.
As Martin states, "web developers focus on building great websites, not building great client training systems. As a result, most website developers don't invest much time or effort into thinking about what happens to the client after a website is built. So, many provide their new clients with a general 1-2 hr overview of WordPress that leaves them feeling confused and overwhelmed, and their training resources consist of a bunch of videos that have no logical sequence and a flimsy 'quick-start' PDF guide put together over a weekend or two containing outdated information and lots of missing steps. We've invested over 8+ years of work into building our comprehensive step-by-step client training system and then tested it successfully with businesses of all sizes. Now, we are making it available to anyone who provides WordPress services in the form of a white label content membership service."
To give readers an idea of how comprehensive this service is, Elite members will receive over 500,000 words of expertly-written content with 2,800+ high-quality screenshots. All of this content can be edited to suit the developer's needs.
According to WPTrainingManual.com, "right now, the content is available on a monthly basis only with a significant discount as we are currently updating and rewriting all of the tutorials to take into account new WordPress versions, improvements to existing features, and the introduction of the Gutenberg content editor, which we cover extensively in our white label tutorials. Once all the contet has been written, we will then increase the price and offer members the option of purchasing everything upfront. Also, depending on how many WordPress developers take up the service, we may look at ways to deploy the entire training system at the click of a button."
WPTrainingManual.com's Elite Membership service is an exclusive 12-month fixed-term membership, meaning that the entire WordPress client training system is delivered over 12 monthly installments with only a limited number of membership spots available.
For more information, visit the website here: https://wptrainingmanual.com/product/wordpress-step-by-step-client-training-system-elite-member
Release ID: 88983707