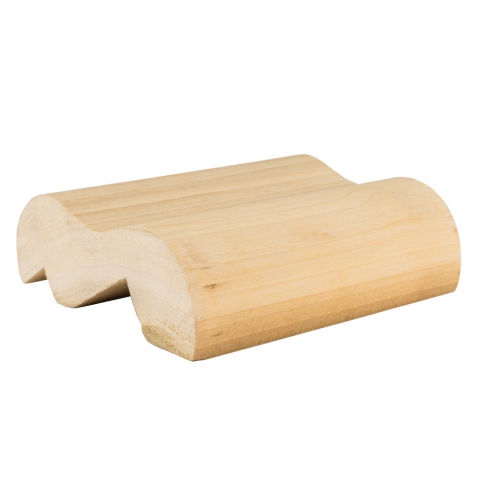 - October 18, 2017 /PressCable/ —
Los Angeles, California – October 17th, 2017
Many homeowners opt for putting crown moulding in their homes as the finishing touch in new and older homes. However, installing inexpensive crown mouldings in a home could end up costing more time and money in the long run says woodworking company Blumer & Stanton. Since wood crown mouldings attach with finish nails or finish screws to both the ceiling plate and to the wall studs, Blumer & Stanton recommends people to consider using real wood crown mouldings while sprucing up their homes for a rich transition from wall to ceiling.
Blumer & Stanton, a South Florida based company that mills custom wood crown mouldings, has recently expanded their offerings on Amazon with their beautiful decorative crown molding. A company spokesperson states, The "Decorative Cut Crown Moulding is easy to install, saves time and energy during installation, and is custom milled from real poplar wood." Blumer & Stanton's Decorative Cut Crown Moulding is more durable than MDF, poly, foam, urethane, or plastic mouldings which are constructed from cheap materials. The company spokesperson adds, "Cheap materials make a cheap impression, and nothing makes an impression like real wood."
Furthermore, Blumer & Stanton's very decorative crown molding can give a room a finished and polished appearance. The Blumer & Stanton spokesperson adds, The "Decorative Cut Crown Moulding prevents the frustration of installing a multi-piece combination crown moulding because the mid-section relief provides a defined and stepped transition between the cove at the bottom and the subtle S-curve at the top. This creates the appearance of a multi-piece combination moulding due to this prominent break between its features. It can be easily installed in a single day and will last decades versus using cheap mouldings constructed from cheap materials."
Blumer & Stanton warns people against using mouldings made from MDF as they are known to split when being nailed or screwed during installation. The Blumer & Stanton spokesperson notes, the "Decorative Cut Crown Moulding are sold and shipped in 8'0" lengths with 8 pieces, preferred by professional carpenters, and provide warmth to a room which cannot be achieved by using poly products." Polyurethane mouldings seem fine from a distance, but don't appear like the real thing when seen from up close.
People who are interested in knowing more about Blumer & Stanton or their products can visit their website or Amazon.
About Blumer & Stanton, Inc:
Blumer & Stanton Enterprises is located in West Palm Beach, Florida, and was established in 1946. Blumer & Stanton primarily operates in the Millwork business, making quality custom woodwork. For over 71 years, the company has had the privilege of serving South Florida's distinguished and quality-conscious builders with custom architectural woodwork, entryways, cabinets, columns, doors, shutters, and wood moulding profiles – from elegant upscale residences to high-end commercial projects. For decades, Blumer & Stanton has been widely recognized as an innovative and leading manufacturer of crown mouldings.
https://www.amazon.com/s/ref=nb_sb_noss_2?url=search-alias&field-keywords=crown+moulding&field-brand=blumer+&+stanton
Release ID: 251935