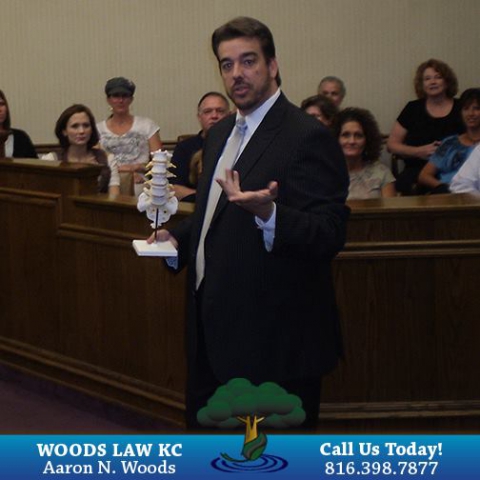 - April 8, 2017 /PressCable/ —
As a native of Independence, Missouri Aaron Woods prides himself on speaking up for the rights of those who cannot speak for themselves. As a champion for those who have suffered needlessly from the negligence of others Aaron represents real people who have been wronged by some of the largest corporations in the United States. He has a reputation for being fierce as well as ethical, a combination designed to win cases and improve lives.
Woods has represented people who have experienced injuries directly related to defective products. He has helped many who have been victims in auto accidents, unsafe work places, trucking accidents and acts of medical negligence. In a world where people can be permanently debilitated due to accidents that could have been avoided, Aaron Woods has become a trusted and powerful legal advocate.
Over the years he has become an expert in cases where traumatic brain injuries and spinal cord injuries are involved.These cases can be particularly heart wrenching, demanding the best combination of legal knowledge and courtroom finesse. Mr. Woods has practiced law on the federal and state levels, striving to focus on doing the best he can to represent those most in need.
Since 1998, Aaron Woods has been honored by the Martindale-Hubble AV gold standard rating system for attorneys. The Martindale-Hubble AV award recognizes lawyers who maintain strict ethical standards while offering the best possible legal representation. These ratings have been used to evaluate how peers and clients view the level of integrity and skill of attorneys throughout the United States. Mr. Woods has been honored with the highest level of excellence in a consistent way that sets him apart from his colleagues.
Woods commented on how he feels about the recognition he has received from Martindale-Hubble AV since 1998. "It is a great honor to continually be recognized by both my peers and judges as one of the top lawyers in the country. It is humbling to receive such a recognition, but also drives me to continue to provide the best representation I can to my clients."
Aaron Woods has received an excellent peer and client review rating consistently over the past 19 years from Martindale-Hubble AV. His focused work ethic and legal competencies benefit all those who reside within the Kansas and Missouri areas. Big name corporations do not intimidate Mr. Woods due to his success in the courtroom as a trial lawyer. He has trial experience dealing with well-known companies such as Goodyear, General Motors and Liberty Mutual Insurance Company.
For more information about Aaron Woods and his legal expertise visit his website today. Not all attorneys are equal, but Mr. Woods can be trusted with his long track record of recognized integrity and experience. Aaron Woods is the compassionate, driven representation the community needs to be on their side. Contact his office today for an appointment. His support staff is available to arrange an introductory meeting with Mr. Woods in order to review any facts related to personal injury cases.
Release ID: 184535