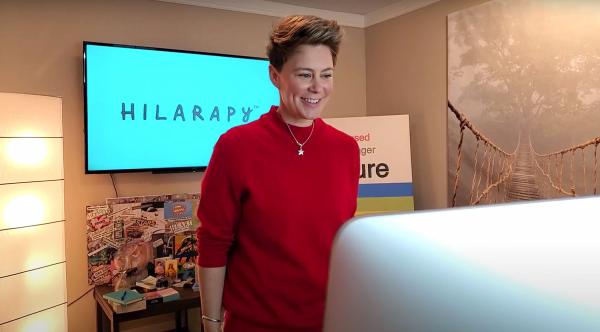 - January 18, 2021 /PressCable/ —
At 19, Brit, Lizzie Allan, was taken to a Thai hospital in a psychotic state and held against her will after losing her mind at a Full Moon Party at a Koh Phangan beach in Thailand. She was rescued and brought back to England by her mother and sectioned under the Mental Health Act – she was in a mental health crisis including thinking she was Jesus reincarnated as a famous rapper.
Fast forward to today at 40, Allan has become a Registered Therapeutic Counsellor, earned a degree in Comedy Writing and Performance, become a Professional Comedian, and created a growing global humor therapy platform called Hilarapy – a healing with humor, comedy therapy empire.
What does Hilarapy mean? "It's a made-up word," explains Founder and Visionary, Lizzie Allan, "A mashup of hilarious therapy."
On her road to health, Allan discovered that, "Telling vulnerable and authentic stories infused with comedy in front of a supportive community/audience delivers a unique brand of therapeutic comedy in a new, nourishing eco-system where people can thrive rather than just survive. Shared identity and connections are the cornerstones to wellbeing."
To help people start the new year with a fresh, clean slate, Hilarapy announced a 60-minute Free Class – Using the Power of Therapeutic Comedy to Change Your World. Participants experience the class on their recently launched online platform. Pre-COVID-19, they held all their classes and programs in person at their facility in BC, Canada. Throughout the lockdowns of 2020 they sought to continue serving their members via the Internet.
The online platform takes Hilarapy's formidable in-person studio sessions and recreates that rich and transformative experience online. The Free Class allows you to get a feel for this new concept, interact with the community, and try the course material without obligation. It is Hilarapy's goal to have people join in from across the globe and find a path to own who they are, transform their world, and consequently live happier, fuller lives.
"I never thought I needed support or help until I joined Hilarapy," shares Jodi S., a member of Hilarapy. "I can come and be myself while getting support from the Hilarapy team and the whole community. Who knew you could heal with humor? I do now!"
Profound life-changing experiences occur when combining comedy and group therapy. With the Hilarapy Online Comedy Therapy Program participants acquire and learn to use potent new tools and develop active listening and powerful sharing skills to help them build confidence and overcome life's anxieties.
In a sincere effort to introduce an easy and accessible path to understanding, Hilarapy also announced regular and free, Live Q&A and Information Sessions on Zoom every Tuesday at 6:30 PM PT with Hilarapy Founder, Lizzie Allan. These Zoom sessions are designed to be an ideal complement to the Free Class. They serve as a real-time connection point for those curious to find out more about Hilarapy's methods and ways in which it might work for them in their lives. Lizzie is there to answer any questions, meet with, and have an informal chat face-to-face with everyone who attends.
"Hilarapy is a welcoming community of compassionate and funny people." says Pasha M. "This is a safe space to share stories and heal with humor,"
The magic is comedy plus therapy plus community," asserts Allan. "What if we address the serious business of being alive with the seriousness it deserves?" poses Allan. "Then, what if we share our deepest fears and hurting hearts with others? And, we do all of that before we even begin to find the absurd humor inherent in every thread of this rich tapestry we call life."
"The healing power of laughter alone can only go so far," she affirms. "I'm not a laugh therapist. What if we go the distance and share our humanity with the world? What if by falling in love with our stories we could celebrate our humanity, raise the vibration for ourselves and everyone we reach with our seriously hilarious message? What if we own our stories without need for sympathy or approval? What would that feel like for you? What if we find acceptance and celebrate the big juicy fullness of being a human being?"
For more information on Hilarapy, go to Hilarapy.com
Release ID: 88993895