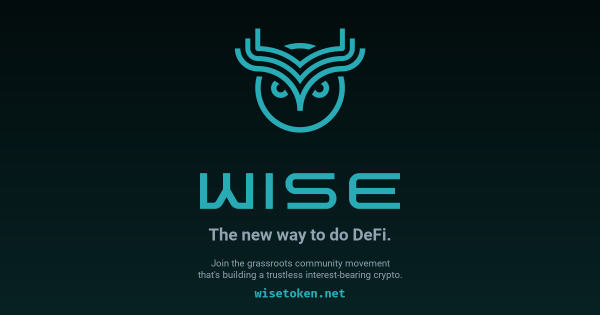 - November 25, 2020 /PressCable/ —
WISE, a decentralized finance project has launched a systematic method to earn alternative currency. WISE is redefining decentralized finance as the system discards traditional mechanisms that dilute the profit potential of most launches. There are no team tokens and 90% or more of presale money goes to Uniswap liquidity, contract BURNS, Uniswap LP tokens, all without admin keys.
For more details see https://cryptodefiwise.live/wise-9b704
The launch of this decentralized currency is based on a solid foundation gives everyone involved an equal opportunity to earn. WISE has a 50 day launch period for investors to reserve their WISE. Each day of the launch, about 5 million WISE are available, which are distributed proportionately according to the amount of total Ethereum that is sent in for that day.
WISE may be staked so that more interest can be earned and can be cashed out instantly using the Uniswap DEX. The nature of the WISE contract includes the creation of a pool of liquidity on Uniswap, featuring no KYC and the ability to swap from a private wallet. The WISE project consists of smart contracts capitalizing on token liquidity formation, a referral system, and token staking capabilities.
The launch of the WISE contract will begin with an initial 50-day phase during which users may send Ethereum to the contract to reserve WISE tokens and form the main liquidity pool. The project has a liquidity transformer that trustlessly generates the main liquidity pool for WISE using the Uniswap protocol.
WISE tokens are minted to investors who make reservations with Ethereum, and the Ethereum is paired with more WISE and sent to Uniswap. This ownerless liquidity pool backs the value of all WISE tokens, and allows anyone to buy or sell large amounts of WISE.
The amount of available WISE tokens offered on random supply days is determined shortly after the end of that day. WISE leverages the Provable Oracle API, which generates randomness delivered on-chain in a provably cryptographically secure manner.
A company spokesman said, "We are a team spanning the globe with the common goal of developing and launching WISE for the benefit of the world. Connect a wallet and use the WISE dashboard today. All investors can use supported assets for WISE reservations and WISE staking."
The launch of this well thought out cryptocurrency project gives investors large and small a solid base to build their crypto holdings.
For more information see the above URL.
Release ID: 88987201