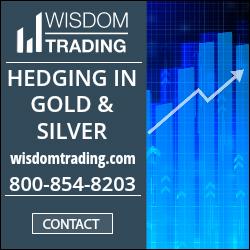 - November 21, 2018 /PressCable/ —
Futures broker Wisdom Trading, Orange County, CA – Wisdom Trading, a Futures Broker with over 20 years of industry experience, is helping business hedge in the metal markets. With increased economic uncertainty and market volatility, many companies throughout the metal industry are turning to hedging with futures contracts to protect against price fluctuations. Companies holding inventory that are concerned about future prices use futures contracts in the corresponding metal to hedge and help offset losses. Other companies that aren't holding inventory but are concerned about having to purchase at higher prices in the future also use futures contracts to hedge or lock in a purchase price for the future.
Wisdom Trading is an Independent Futures Broker established in 2003. They offer access to a wide range of global markets and specialize in providing trade execution, clearing, and back office services to Commodity Traders, Commodity Trading Advisors, and Hedgers around the globe. As an Independent Futures Broker, they represent several FCM's to provide one of the widest market offerings in the industry. Wisdom Trading's extensive global market access provides opportunities in markets that are typically not offered through most brokerages.
Wisdom Trading professionals are experts in Commodity Trend Following, Commodity Trading Systems, CTA Back Office Services, and Global Markets Trading. They work closely with clients to understand their needs and then deliver relevant, efficient, and cutting-edge solutions that give customers the necessary freedom to pursue and implement their investment strategies. Clients choose Wisdom Trading because they know that we can help to maximize opportunities in Futures and Commodities, where speed, security and price are paramount.
Wisdom Trading works with small individually owned business to large global fortune 500 companies in assessing their risk and how best to hedge against adverse price movements.
Call Wisdom Trading today at (800) 854-8203 or reply to learn more about how they can help hedge your business.
Futures trading involves risk of loss and is not suitable for all investors.
For more information, please visit: https://www.wisdomtrading.com/commodity-hedging/
Release ID: 447422