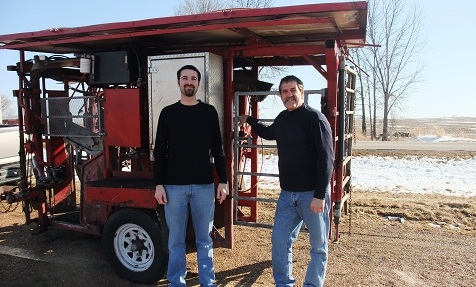 - July 20, 2015 /PressCable/ —
FALL RIVER, WISCONSIN, JULY 17, 2015 – Wisconsin's own Castleberg Hoof Trimming is excited to celebrate 15 years in business, during which the company has proudly served the surrounding areas of Wisconsin, Minnesota, Iowa, and Illinois with premier hoof trimming services.
Castleberg Hoof Trimming is a family-owned business that boasts over 15 years of experience in the Wisconsin hoof trimming field and 50+ years of dairy experience. Castleberg Hoof Trimming knows how much farmers care for the wellbeing of their cattle, and this shared feeling drives them to offer the best and most mild, humane treatments for cattle. Castleberg Hoof Trimming treats every herd that they service as if it is their own and provides trimming services with the least amount of stress on the animals as possible.
One way this is achieved is by trimming hooves gently using an elevated non tilt chute. Each cow's hooves are thoroughly inspected before trimming takes place to decide if trimming is in fact needed, as over trimming can increase the risk of lameness for cows.
Castleberg Hoof Trimming uses several steps in their trimming process. First, the animals are herded into the back of the hoof trimming chute where they are secured. During hoof trimming, each hoof is individually secured in a natural position via a unique hydraulic system that prevents the animal from moving and hurting itself. The hoof trimmer then inspects each hoof to determine how much material needs to be trimmed off as well as whether or not any other issues need to be attended to, such as the existence of hairy warts on the back heel. Performing these tasks safely and properly requires years of training and experience. The professionals at Castleberg Hoof Trimming are experts in the field of hoof trimming and have collectively trimmed hundreds of thousands of cattle hooves. Their clients know that their herds are truly in the best hands.
Castleberg Hoof Trimming services dairies of all sizes with competitive rates.
The team at Castleberg Hoof Trimming thanks all of its clients for years of incredible relationships and services, and the company is excited to see what the future holds. More information can be found at http://www.hooftrimming.org/, on Facebook and Google+.
About Castleberg Hoof Trimming
Castleberg Hoof Trimming proudly serves Wisconsin, Minnesota, Iowa, and Illinois with over 15 years of hoof trimming and 50 years of dairy expertise.
Contact
Mike Castleberg, Sr.
Castleberg Hoof Trimming
130 Community Dr.
Fall River, WI 53932
Phone: 920-296-9906
E-mail: mjcastlebergsr@gmail.com
Website: http://www.hooftrimming.org
Facebook: https://www.facebook.com/wisconsinhooftrimmer
Google+: https://plus.google.com/+HooftrimmingOrg
Release ID: 87121