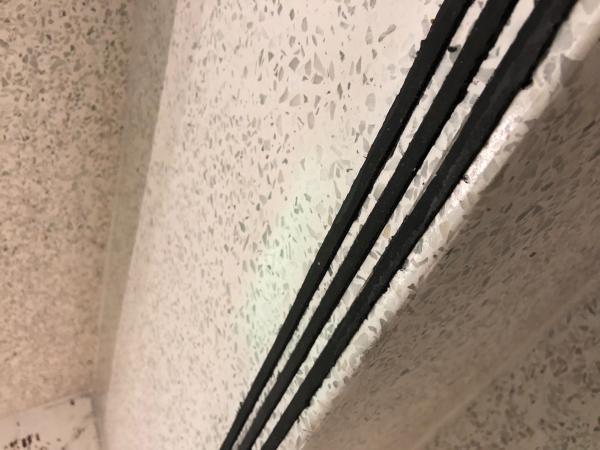 - April 17, 2019 /PressCable/ —
Winnipeg Canada – TC Floors West, one of the largest manufacturers and installers of flooring in Canada, is pleased to announce that they have recently used a modern specialist technique, to create a stunning set of stairs for a client. The process enabled the majority of the building process to be completed in their shop, with precision engineering.
The process involved pouring the stairs in the factory shop using a technique known as a monolithic pour. This essentially means that both the riser and tread were poured as one.
There are many benefits to using this technique, but the two most significant are the drastically reduced downtime on site, and the significantly faster installation process.
Site measurements were completed to ensure that each stair was uniquely measured to fit on-site. After casting, the stairs were polished in the shop prior to site delivery. Onsite, stairs were pre-placed, and further cut down to size to ensure a perfect fit. The next stage involved landings being poured on site and then polished. Finally, the last step which involved installing stainless steel traction dots and abrasive nosing strips was completed. The effect…… a truly "one-off " epoxy terrazzo staircase that will withstand continuous traffic with minimal maintenance.
"It might seem to be a rather strange way to build a staircase, but our priority is always to cause minimal disruption to our client's main business," said Michael Rosenblat, owner and founder of TC Floors West. "This technique means that the majority of the work is completed offsite, and means that our clients do not have to shut their business premises for longer than necessary. Our client was delighted with the process from start to finish and was impressed with their new staircase. This innovative solution is, in my opinion, the best way to fit a new set of stairs for any business that wants to remain open as much as possible during any flooring or steps work."
TC Floors West was formed in 1989 and has established itself as one of Canada's most respected flooring contractor and surface prep companies. They are one of the few surface preparation companies that install Ardex's products with a Level Master Elite warranty. This ten year extended warranty is only available from certain providers who have achieved significant benchmarks within the industry. For more information about the company, or to book a no-obligation quotation, visit their website at https://www.tcfloorswest.ca/.
TC Floors West Concrete Finishing and Repair
1380 Notre Dame Ave, Winnipeg, MB R3E 0P7
(204) 694-3444
Release ID: 503595