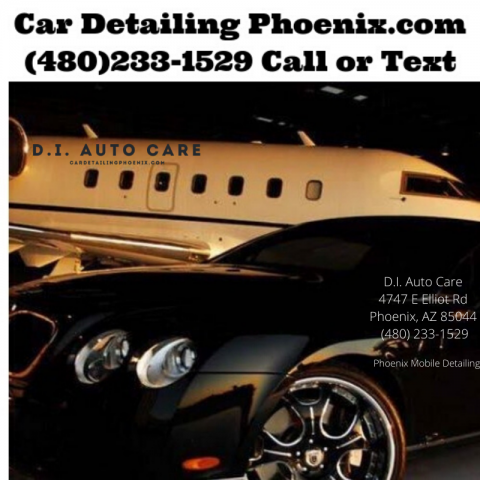 - November 6, 2020 /PressCable/ —
The Ahwatukee windshield replacement and auto detailing company D.I. Auto Care is pleased to announce that they are offering professional glass windshield repair and replacement to the motoring public of Phoenix and the surrounding areas.
D.I. Auto Care states that it is important to get a car windshield repaired or replaced as defects on windshields dramatically reduce visibility for drivers driving in the dark or even in broad daylight. Visibility is critical, especially when driving through bad weather conditions such as thunderstorms and snowstorms. For those who want to get their windshield repaired, D.I. Auto Care recommends rock chip repair. This is achieved by injecting resin that cures and dries into the windshield's chips. This restores the strength and integrity of the windshield and gets rid of its damaged appearance.
As noted on the company's website, car owners can choose to purchase and use a DIY rock chip repair kit. However, they caution customers that the windshield may be further damaged if this kit is used incorrectly, leading to even lower visibility. Meanwhile, when rock chip repair is done by a professional with the right tools and experience, it leaves a smooth and invisible surface — and the dependability of the windshield is restored.
On the other hand, if a car windshield has cracks, scrapes, pitting and other blemishes, D.I. Auto Care recommends windshield auto glass replacement. The company explains that window auto glass replacement is the removal of a vehicle's windshield, old urethane, trim pieces, gasket and molding, followed by the installation of a new windshield and its associated components. This job is best left in the hands of an experienced professional as it requires the use of specific tools and equipment.
For example, windshield replacement requires the use of a urethane glue gun, which is used to properly distribute the urethane glue sealant at the right temperature in the right place. The procedure also requires knowledge of the various types of windshields as some may have cameras, condensation, lane departure and rain sensors. Windshield replacement, if done by a professional, will restore the vehicle to the manufacturer's standards or even better. If in need of windshield replacement, Ahwatukee residents may check out D.I Auto Care. Learn more here: Windshield Replacement Ahwatukee.
In addition, D.I. Auto Care also offers a wide range of auto related services, including window tint, ceramic coating, windshield calibration and more. D.I Auto Care has received glowing reviews from many of their customers. Becky S. writes in a 5-Star Yelp review, "I can't even say enough great things about Paul and his exemplary work. We just recently moved us and our home cross country to AZ and, by the end, my car was in dire shape, so I gave D.I. Auto Care a call as a first time customer in hopes it could get some serious TLC."
The review continues, "From our very first phone call, he was friendly, informative, professional and listened to specific requests I had. He made me feel valued and came out promptly at our scheduled time and got straight to detailing. He not only did a phenomenal detailing of my car, but I can see he addressed every nook and cranny in the vehicle, leaving it — no joke — better than brand new. Definitely went above and beyond what I was hoping! I couldn't believe the effort he put into my vehicle and turned it into a total joy to drive in. He really put 200% into detailing the car, and I cannot thank Paul enough. I highly, highly recommend his services to anyone looking for a top notch detailing service. It's worth every single penny and then some. I will definitely use his services again for any car detailing needs."
In another 5-Star Yelp review, Katie C. writes, "My car is 10 years old and until today has always looked like it. Even when I went through a car wash, it always looked dull and scuffed. The interior was stained with coffee/juice and the carpet caked with dirt no vacuum could remove. Until I found Paul. Paul arrived right on time (yeah, he came to my office and I didn't have to deal with the drop off/pick up drama), was very professional and did an incredible job. My car looks new. The exterior is shiny and clean, and the scuffs are no longer there. The interior smells and looks fresh, and with summer road trips coming up, I can't appreciate it more. If I weren't moving out-of-state, I would ask Paul to come clean my car at least quarterly, but he provided a stack of business cards that I'll be passing out to everyone I know. Highly recommended."
Release ID: 88984593