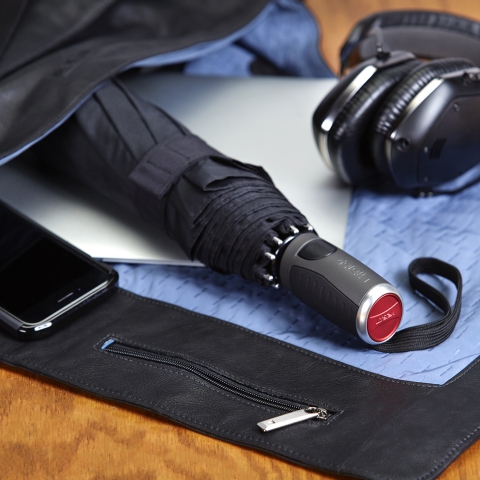 - June 26, 2017 /PressCable/ —
LifeTek, an Illinois company specializing in high-quality umbrellas, announced a new 45" canopy business travel umbrella. Coated in protective Teflon and with a 9-rib windproof frame, the new LifeTek umbrella is designed as a reliable and elegant model that can be used by business professionals, students or anyone looking for a spacious umbrella.
More information can be found at https://lifetek.com.
Umbrellas come in various shapes and sizes, with many preferring compact models for their portability and ease of access. However, the main problem with many compact umbrellas is that they tend to be quite fragile due to the sensitivity of their support mechanisms. Especially during heavy winds, such umbrellas tend to break or have their canopy punctured by broken supportive ribs, leading to uncomfortable situations.
Especially for business professionals and students, who often need to carry briefcases or backpacks, durable umbrellas with large canopies are essential.
LifeTek strives to offer high-quality umbrellas at affordable prices, undertaking constant research to manufacture various models of durable umbrellas. The company has recently announced a new travel umbrella with various features to ensure extra durability, increased wind resistance, and generous rain protection.
The LifeTek travel umbrella features a large 45" canopy, making it ideal for business professionals, students, hikers or couples. Equipped with a 9-rib support frame, the umbrella is designed to withstand heavy winds without breaking, with the enforced steel shaft ensuring further wind resistance.
The 210T micro weave fabric is covered with a Teflon protection for improved waterproofing effect and canopy durability. The LifeTek umbrella dries extremely fast, ensuring minimal water retention even when exposed to heavy rain.
For extra comfort, the umbrella is equipped with a padded grip handle.
Each LifeTek travel umbrella comes with a full two-year warranty.
Interested parties can find more information on the full collection of LifeTek umbrellas by visiting https://lifetek.com.
Release ID: 203925