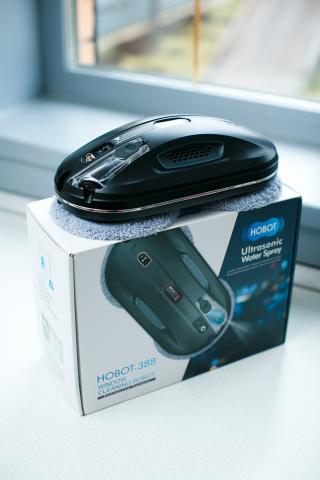 - November 23, 2021 /PressCable/ —
HOBOT 388 is a universal glass cleaner with two wash cloths from the Taiwaneese manufacturer Hobot Technologies. The new window cleaner is a modified version of the previous 368 model. The main innovation is the function of automatic spraying of liquid from the built-in reservoir. Hobot 388 can please the buyer with the updated AI Technology 4.0 firmware and slightly modified design.
The tools of the new robotic glass cleaner remained the same – two platforms with slots for air intake, on which mops are put on round rags. To affix them, special plastic rings are provided. There is a remote control receiver, status indicators, and a branded seal on the bottom of the receiver.
The Hobot 388 is designed for cleaning vertical smooth surfaces. Its main purpose is to clean external glass (except for frameless). The low-profile design also allows the smart robot to handle barred windows with a gap of at least 95 mm between the bar and the window. In addition, the glass cleaner can be used to clean glass tables, sliding doors in the bathroom, tiles on the walls and floors.
The spatial orientation system is represented by AI Technology 4.0, which reads the data of the mop rotation sensors. Such navigation can determine the boundaries of the window – but only if there is a frame it rests against. The robot is not suitable for processing frameless surfaces.
To prevent a fall in the event of a power outage, the robot is equipped with a backup power source – a lithium-polymer battery. Its energy reserve is enough for the robot to hang on the glass for another 20 minutes before the user has to remove it. If the user ignores the warning sent to the smartphone, does not hear the alarm signal, or does not notice the blinking red light, the robot will fall. That's why there is a safety cable attached to it to prevent a fall.
Release ID: 89054127