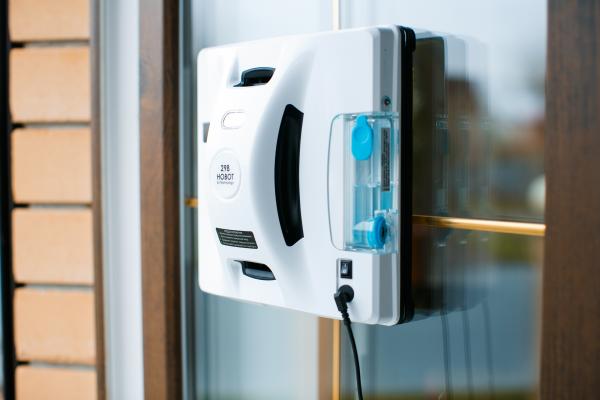 - October 26, 2021 /PressCable/ —
There have been a wide variety of robotic window cleaners in our test laboratory, and one has stood out the most. Robotic window cleaners have long passed from the category of gadget toys to useful household appliances of our generation. These devices are useful for an apartment owner with only a couple of windows, especially if it's on a high floor, to the owners of large panoramic windows in country houses, where it can take a couple of days to clean all the windows.
The one that stood out the most in our extensive laboratory testing is a unique window cleaner – HOBOT-298 Ultrasonic. It is from a well-known Taiwanese manufacturer of household robots, HOBOT Technology Inc. It differs from others in the function of spraying liquid onto the glass surface using an ultrasonic membrane. According to the manufacturer, this model is the first in the world that has the ability to automatically spray detergent. This function has turned the robot into a full-fledged washing device, and not an automatic mop, the rag of which must be constantly moistened and rinsed with water. That is why the manufacturer recommends its new product as an ideal washer for large showcases, store fronts, and very large panoramic windows. However, the device handles the washing of small windows just as well.
The basic principle of operation of HOBOT-298 Ultrasonic is exactly the same as that of other models of window cleaning robots. A vacuum pump creates a vacuum suction between the cleaning surface of the robot and the glass. The suction is strong enough for such a device to firmly adhere to the glass. The design of the new robot uses a brushless motor with a metal impeller. According to the manufacturer, the noise level from the device is 64 dB, which is noticeably quieter than a conventional vacuum cleaner robot.
The glass is washed with a high-density microfiber pad. This is another key difference between the HOBOT-298 Ultrasonic and other models. The robot is equipped with a replaceable cleaning fluid tank with an integrated ultrasonic spray nozzle. It sprays liquid in front of the robot, efficiently spreading the droplets over the cleaning area. Due to even distribution of small amount of sprayed liquid, the robot does not slip or skid on the surface to be cleaned. However, the manufacturer still recommends slightly moistening the napkin with the same cleaning liquid supplied before each cleaning step.
Release ID: 89050360