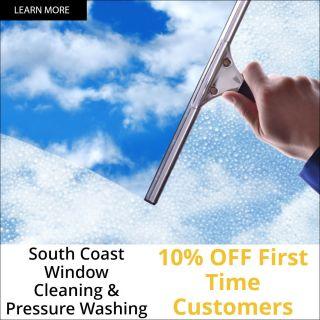 - April 18, 2019 /PressCable/ —
South Coast Window Cleaning And Pressure Washing, Orange County, CA – For over 17 years Orange County based company, South Coast Window Cleaning And Pressure Washing, has offered the best quality window cleaning services in the industry. Since 2001, South Coast Window Cleaning has proudly served Southern Orange County. Recently, this highly reputable company announced a 10% discount to new customers. With so many happy clients and outstanding testimonials, the professionals at South Coast Window Cleaning know that once home and business owners use their services, they'll be a client for life.
South Coast offers many services including construction clean up, rain gutter cleaning, screen repair and holiday lighting. Their fully trained and qualified staff will make sure they get the job done right, the first time. This family owned local business understands the importance of demonstrating consistent quality workmanship, competitive pricing, honesty and integrity.
"Kirk has always been super professional, his price has been fair and consistent on returning visits," states one reviewer, Cathy N. She adds "Kirk and his team are efficient with getting the job done in a timely manner and I am always happy with the results!"
Aside from making your home or office look nice, there are many benefits to keeping windows and gutters clean. Dirt particles on windows can lower there efficiency. Since glass is a porous material, it can become weakened by the dirt and microorganisms that build over time. The results can cause glass to shatter more easily. Additionally, a gutter clogged with debris can cause a leaky roof or water damage to the interior and exterior of your home. Full gutters also make a nice home for pests and insects.
South Coast Window And Pressure Washing customer services representatives are standing by. Call now for a hassle free quote (949) 295-8785.
For more information, please visit: https://southcoastwindowcleaners.com/
Release ID: 504195