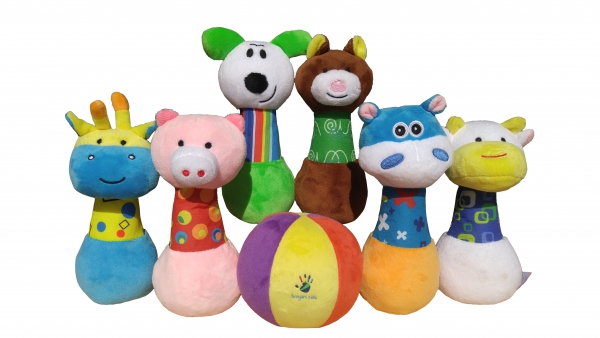 - September 17, 2016 /PressCable/ —
William Ryan Spence, owner and creator if Broyani Kids has been recognized for selling over 500 developmental toy sets in only 90 days on Amazon alone. This recognition is, in part, a result of both Morgan and Ryan Spence's hard work within the Developmental Toy arena.
Ryan Spence, a native of St. Louis, has been involved with manufacturing Developmental toys for one and two year old boys and girls for almost a year. This concept came about when the Spences were tired of purchasing low quality toys for their friends kid's birthdays and decided to make a line of their own. In response to a question on the driving force behind their success, Ryan explained how it really boiled down to their initiative to go from zero knowledge in the toy manufacturing world, to creating a concept, getting samples made, negotiating contracts with companies over seas and figuring out logistically how to move thousands of products to America. There were many times where it would have been easy to quit, but figuring out how to keep moving forward was ultimately the best action.
Reflecting on the recognition Spence is quoted as saying: "I'm just happy that we're receiving 5 star feedback. That was our hope from the beginning, to make quality toys a 6 month old would love until they were two, three or even four years old"
In a recent one-to-one interview, Spence reminisced on other past achievements, which helped build momentum towards the present day. Notably, one of the proudest was Ranking the 7000th best toy out of over 3 million toys available on Amazon. Here's a link to a video of one of their happy customers
In the same interview, Ryan Spence stated his intentions for the future. The primary goal for the next 12 months, Spence states, will be to surpass 2000 sets by Christmas of 2016. Looking farther ahead, the aim is to be able to donate over $1,000 to St. Jude by this time next year.
When asked more personally about how they want to be perceived and remembered, Spence said: "We hope to be looked at as a company that cares about kids and cares about making quality products. After looking into what it costs to have a product manufactured, trademarked, shipped and marketed, it is clear that a lot of our competition is gouging their customers for large profits. We aim to provide quality at an affordable price and provide A+ customer service. We hope our customers share their experience of our products with their friends and if for any reason anyone is not happy with our toys, they get their money back. It's that simple."
Spence closed the interview by sharing his recommendation for anybody who wanted to follow in his footsteps in some fashion, perhaps taking the achievements even further. According to William Ryan Spence, the key is (just like any business) to take care of your customers and they'll take care of you.
Since Christmas is around the corner, The Spence's are offering a 20% off discount off of their PinPals developmental toy. Just use the code "pinpal20" at checkout.
Become a fan of Broyani Kids on Facebook and keep up with info and deals on the companies products
Further information can be found at http://www.broyanikids.com
Release ID: 133072