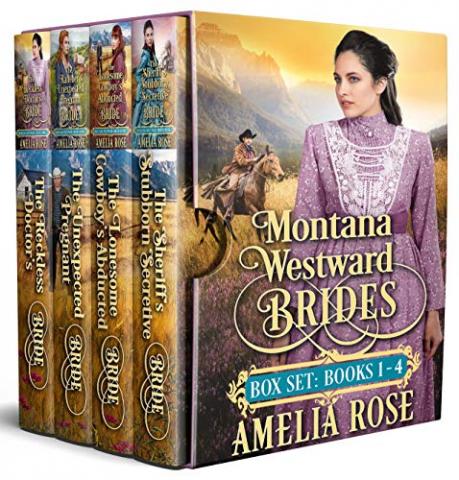 - September 20, 2020 /PressCable/ —
A newly updated historical romance series has been launched on Amazon, called Montana Westward Brides. It includes books one to four, and gives readers access to four popular mail order bride historical western romances.
More information can be found at: https://www.amazon.com/Montana-Westward-Brides-Box-Set-ebook/dp/B089QW2FYH
The newly updated series covers four brides on four different quests to find a future of freedom, love and happiness. In order to achieve this, they must first overcome or outwit their past.
Written by Amelia Rose, the stories are designed to provide sensual stimulation while arousing romantic senses. Each historical novel depicts the West in detail while still offering an engaging story for modern readers.
A central theme running through the series is whether or not it's possible to outrun destiny. Alongside this is the theme of love triumphing in the face of danger.
In the first book of the series, the reader follows Lucy Magee, who fears that she may be cursed with bad luck forever. She hopes that her marriage to Dr Sam Slater will bring the good fortune she's always wanted but a tragic death soon complicates the plot. Before long she finds a dead body and receives threats from someone seeking to force them from the land.
In the second book of the series, Martha Walters leaves her brothel and meets a handsome cattle rancher 10 hears her senior. While they quickly fall in love, a secret from her past threatens to upend her new life and her shot at happiness.
Within the newly updated four-pack of books, readers will also find the story of Eddie Murtaugh, who believes he's destined for a life of loneliness. However his luck begins to change when he attracts the attention of his mail order bride, Fiona Wilkins. She leaves high society behind to embark on an adventure on the frontier.
The final book of the collection centers on the romance between Sheriff Josh Ryder and Emily Middleton, whose high-society dreams are shattered by her father's bankruptcy.
A recent reader said: "Another good book by this author, I have read this author before and I am never disappointed. Each and every story is enjoyable. Keep up the great work."
Full details can be found on the URL above.
Release ID: 88977521