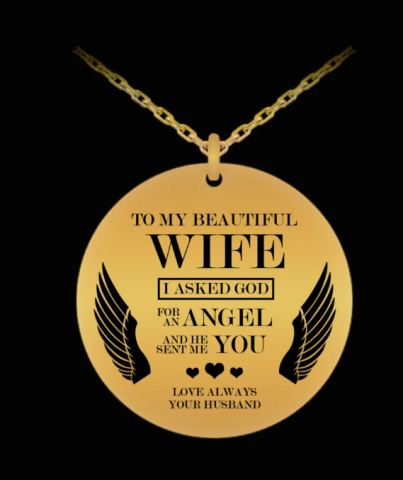 - April 17, 2021 /NewsNetwork/ —
Texas-based online retailer Home Treasures Hub has launched a new "To My Beautiful Wife" laser-engraved pendant and necklace as part of its extensive collection of gifts for all occasions. The new necklace is aimed at husbands who are looking to purchase a loving present for their wives.
For more information see https://hometreasureshub.com/products/engraved-18k-gold-necklace-for-wife
The newly launched jewelry product carries the inscription: "To my beautiful wife – I asked God for an angel and he sent me you. Love always your husband." Home Treasures Hub makes the product available for worldwide customers through its online store for special events such as birthdays, anniversaries, or Mother's Day.
Recent figures show that more and more husbands around the world are purchasing Mother's Day gifts for their wives in order to show their appreciation for her important role in their family. With Mother's Day approaching in the USA and many other countries across the globe, Home Treasures Hub ensures that husbands have access to a unique present.
The 18-karat gold pendant features an angel-wing design with love hearts framing the engraved message. Husbands will find that the necklace makes for a romantic gesture and a fitting symbol of their feelings, allowing them to give their wives a heartfelt memento as a keepsake or as a luxury jewelry item to wear every day.
Home Treasures Hub provides the laser-engraved pendant as part of its line of custom printed necklaces. Products are manufactured and shipped from the USA to local and international customers.
With the latest announcement, Home Treasures Hub continues to supply its customers around the world with a developing range of exclusive gifts for the family. To ensure that customers can regularly find products that meet their needs, the company adds new designs to its line of necklaces and other products on a weekly basis.
A company spokesperson said: "Surprise your wife with this beautiful laser-engraved round pendant necklace and melt her heart this Mother's Day – she's worth it."
Interested parties are encouraged to visit https://hometreasureshub.com/products/engraved-18k-gold-necklace-for-wife to find out more about the laser-engraved "To My Beautiful Wife" item by Home Treasures Hub.
Release ID: 89005800