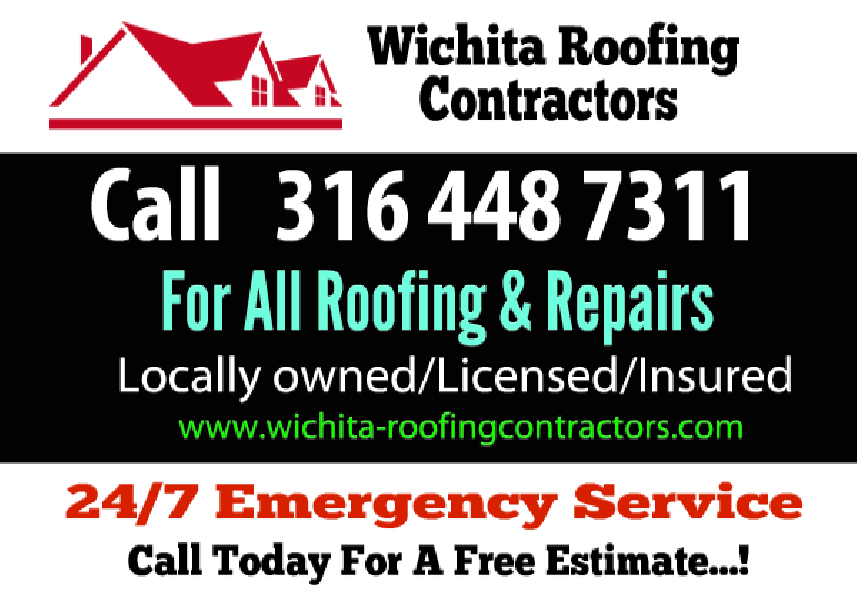 - October 14, 2014 /PressCable/ —
Wichita Roofing Contractors are launching a 24/7 emergency roof repair service for the Wichita Metropolitan area, encompassing Sedgwick, Butler, Harvey, Kingman, and Sumner counties. 
In recent years the occurrence of violent and property damaging weather appears to be increasing throughout the region. Storm loss data for insured real and personal property due to hail, wind, tornado and other weather related claims in Kansas were reported as over one billion dollars in 2011. Wichita, the largest metro area in Kansas, is no stranger to severe weather and it's devastating effects.
It is in response to the growing need for help with emergency storm damage repair and roof replacement in the community that local roofing and restoration experts, Wichita Roofing Contractors is providing a quick response team of roofing professionals headed up by local roofing veteran Ken Stockwell.
"Homeowners across the region are all too familiar with the stress of clearing up after a storm," said Mr. Stockwell, "right after a home has been hit, it can be very confusing for the owner, knowing what to do and who to call, especially when an insurance claim needs to be submitted. Our company's goal is to help relieve that stress and get the building tarped and waterproofed and then follow with a full roof inspection and free estimate based on what we find"
Wichita Roofing Contractors offer free roof inspections for both residential and commercial structures and have the capacity to deal with moderate to extreme storm damage. They have a long experience of working with clients who need to file an insurance claim and can help the homeowner save both time and money when dealing with insurance companies.
Mr. Stockwell recommends that after a storm it is advisable to have a roof inspected, even if there is no visible damage from the ground. The nature of hail damage is such that roofing shingles become 'bruised' where the hail has struck and this has a weakening effect and the shingles become susceptible to water penetration in the future. The nature of wind damage is such that shingles lift and tear and although appear to be in place from the ground are often being held in place by only one or two nails.
In addition to weather related roof repairs, Wichita Roofing Contractors are a full service restoration company offering gutter and siding repair and installation as well as windows, skylights and insulation services.
The company offer special promotions and coupons throughout the year. These can be found on their website at www.wichita-roofingcontractors.com or by calling 316 448 7311
Release ID: 65862