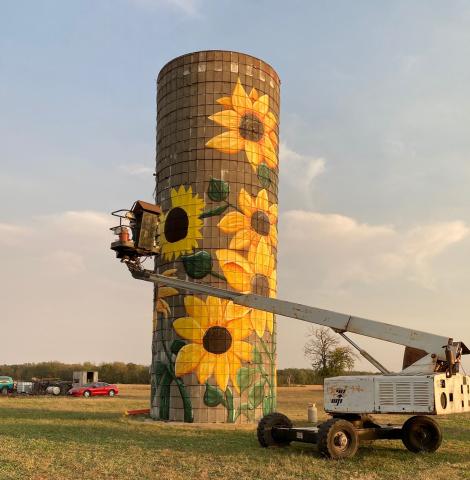 - October 28, 2020 /PressCable/ —
As a Realtor with over a decade of experience helping buyers and sellers complete real estate transactions in Wichita, KS and surrounding metro areas, Diana Burress knows that you have to get creative to set yourself apart in this competitive market. Since 2007, her favorite flower has helped her do just that.
A regular staple in all her business marketing, Burress is no stranger to sharing her love of sunflowers with her clients and social media followers. Most recently showcased in her latest website design update for dianaburress.com.
This love has ultimately culminated into an activity that can be enjoyed by the entire community. For the last three years, Burress and her husband, local farmer and Augusta native, Walter Burress, have planted a field of sunflowers and invited those in the community to come enjoy, at no charge. Friends, family, clients, photographers and strangers alike come by the carload for the 10-14 days the field is in bloom in late summer to bask in its beauty.
Her latest venture; however, started as a simple Facebook post and has now turned into a viral destination.
Traveling southwest of Augusta, Kansas on Thunder road, drivers will now meet a mural of larger than life sunflowers covering an old silo on the east side of the road. Done completely freehand, by Diana Burress herself using a borrowed lift and donated paint.
With over 400,000 people reached, 5,000 shares and 72,000 interactions later, the image of her work quickly spread on social media, making the sunflower silo a viral sensation.
"My daughter helps me with my marketing and posted that picture without telling me. The work wasn't complete yet, but I started to get flooded with notifications. It was so fun to see the reactions and read the comments. I did feel some pressure to finish the project quickly, and now I had visitors watching me paint," laughed Burress.
A fan of all things color and art, Diana has always enjoyed exercising her creative skills but has never done anything near this size, or this public.
"I really am just as shocked as everyone else that I could do this, I have no experience with this sort of thing. I just got some supplies and got started. It was challenging at first and pretty frightening to be up on that lift, but once I got into the groove, I couldn't wait to get out there and work on it," continued Burress.
Burress is passionate about supporting her local community, that is no question. Volunteering for community events, showcasing local businesses on her social media platform and sharing real estate tips on weekly Facebook live videos is commonplace. In 2019, she opened B Realty, her own brokerage, with its local office based in her hometown of Augusta, Kansas.
When asked about the response to her latest project, Burress stated, "this year has been hard on everyone. Between the painting on the silo and the sunflower field, I'm just so thankful and thrilled to be able to bring people some joy and positivity. To all the people that have commented or driven by or simply 'liked' the post, I hope you know it means the world to me."
Will the sunflower silo attract visitors in the same way as the World's Largest Ball of Twine, Big Brutus, or The Keeper of the Plains? Only time will tell.
Release ID: 88982626