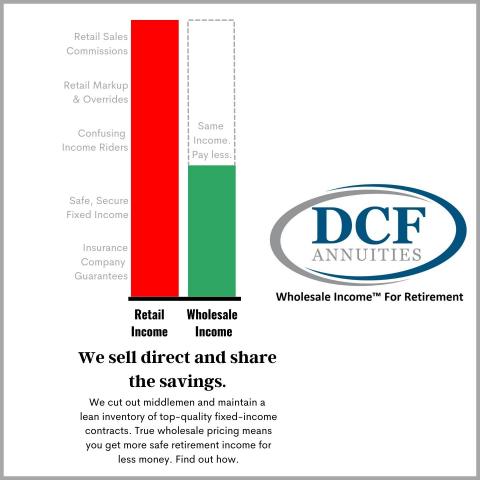 - February 28, 2022 /PressCable/ —
WHITEFISH, MONTANA, February 28, 2022
DCF Annuities [
https://www.dcfannuities.com/portal/
] today announced a 4-video series explaining the process to purchase retirement income with wholesale pricing.
While an estimated 70 million Americans are retired and receiving Social Security as of year-end 2021, the trend toward relying on stock market investments for income is proving to be riskier as market turmoil erupts. A growing number of Americans are shifting toward reducing exposure to market-sensitive investments in order to assure steady monthly income to cover ongoing expenses. Wholesale Income contracts allow retirees to receive higher yields while allocating a smaller portion of a retirement portfolio toward income. The higher yield from true wholesale pricing allows retirees to establish consistent income at a much lower cost and allows for keeping a higher percentage of portfolios in other diversified long-term investments without risk to current income.
As a pioneer in creating access to retirement income at true wholesale pricing for individual investors, DCF Annuities has updated the online portal for providing access to the entire current inventory of Wholesale Income contracts.
Individual investors can now search the full inventory for existing immediate income, deferred income, or deferred lump sum contracts from multi-billion dollar insurance companies like New York Life, Berkshire Hathaway, Metlife, and many more. This access to lower-cost, higher-yielding contracts is changing the way retirees approach fixed-income investments. Now, any individual investor with varying levels of investing experience can obtain custom, personalized payment streams for retirement income including immediate income, deferred income, or deferred lump sum contracts from existing contracts.
Powered by a proprietary inventory database and web portal, Wholesale Income is created when existing payment streams are sold at a discount in the secondary marketplace. "Wholesale Income contracts are period-certain fixed payments backed by annuities originally issued in conjunction with court-ordered structured settlement awards," explains DCF Annuities founder Nathaniel Pulsifer. "Though these Wholesale Income contracts meet the technical definition of an annuity (i.e., periodic payments), and are backed by an annuity policy (owned by the life insurance company subsidiary), they are not the typical retail annuity known by the general public."
One major contrast between Wholesale Retirement Income vs. Retail Retirement Income is the higher yield available when wholesale pricing is available. In a recent case study published by DCF Annuities, Pulsifer compared the retail cost to secure a 30-year stream of immediate monthly income in the amount of $1,073.50 with a 3% Cost-of-Living Adjustment (COLA):
In the retail annuity market, it would cost an investor over $354,400 to purchase this stream of income with a yield of a mere 2.19%. With Wholesale Income. However, at the time of this report, the same income can be purchased from the current Wholesale Income inventory for a total of only $277,400.
The higher wholesale yield of 3.75% results in a much lower cost to generate the same income stream. In this case, retail annuity income buyers would lose almost $77,000 when buying retail instead of wholesale. Regarding safety and security, in this example, the payment stream originates from Berkshire Hathaway Group Structured Settlements, Inc., a Warren Buffet company with excellent financials.
When asked to clarify the safety of these payment streams, Pulsifer stated "Structured Settlement Annuities are considered to be senior obligations of the top-rated insurance company issuing the annuity. This means purchasers of these Wholesale Income contract payments are first in line to be paid in the event of any company instability. However, since the contracts are issued and backed by top-rated multi-billion dollar companies, to date I have yet to be aware of any instance when income payments have failed to happen on schedule."
Unlike all other newly issued retail annuities, Wholesale Income payment streams have no holding costs, administrative costs, or management fees other than a nominal payment servicing fee and, if applicable, costs to an IRA custodian. Remember that originally, a claim or lawsuit was settled with a monetary payment that purchased an annuity income payment stream, either in a qualified assignment or directly by the defendant, to pay out future benefits to the injured party. This award has no costs or fees to the recipient, and thus has no costs to the purchaser of the payment stream, either. Wholesale Income for retirement is a refreshing, clearly defined transaction, without complicated formulas, riders, management fees, or other hidden costs.
DCF Annuities has launched a 4-video series entitled "How To Buy Wholesale Income: Easy as 1, 2, 3" which breaks down the steps to incorporate secure income contracts at true wholesale pricing into retirement portfolios. Each video is just a few minutes long and covers one aspect of the buying process. The video series can be watched for free here:
https://bit.ly/wholesale-how-to
Additionally, interested parties are urged to visit the portal access page to join the DCF Annuities email list at this URL:
https://www.dcfannuities.com/portal/
. List members receive immediate access to the full portfolio along with daily email portfolio updates. Subscribers can also choose to receive special alerts and exclusive offers before they are released to the overall marketplace. There is no cost or obligation to join the email list and receive daily updates on the full portfolio holdings.
ABOUT DCF Annuities
DCF Annuities is proud to be the number one source of direct individual investor access to Wholesale Income for retirement. Until individual investors were given access through the DCF Annuities online portal, most of these higher-yielding contracts were purchased by a few institutional buyers and packaged up for resale to Wall Street hedge funds and large portfolios. With his background in the secondary market for settlement contracts reaching back to the beginnings of the marketplace, Nathaniel Pulsifer created DCF Annuities to provide individual investors access to this little-known, but safe and secure asset for retirement income planning.
Please direct any media inquiries to Nathaniel Pulsifer: ​than@dcfannuities.com​, 800.246-1932.
SOURCE: DCF Annuities; Nathaniel Pulsifer
Release ID: 89065946