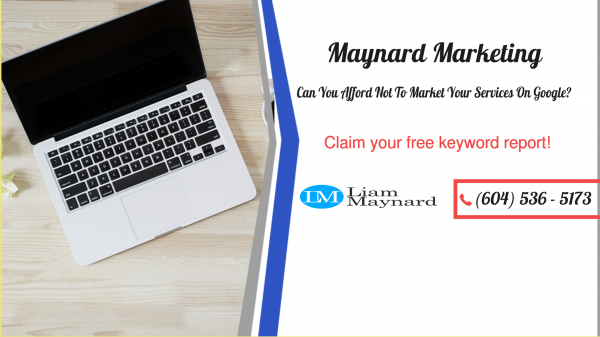 - January 16, 2018 /PressCable/ —
Earlier today, Maynard Marketing finally announced the beginning of its new White Rock SEO Website Optimization service, which has been in development since Jan 2017. The main aim is to create websites that will enhance lead generation and rank client's websites on Google… but it does so, with a difference.
Liam Maynard, Owner / President at Maynard Marketing, says: "We wanted to try something new with this White Rock SEO Website Optimization service. Anyone familiar with the Internet Marketing Service market will probably have noticed how everyone else seems to sell generic websites that don't generate leads or rank online. This is a problem because many business owners feel they are not earning enough revenue from their websites."
So as a welcome breath of fresh air, Maynard Marketing will instead provide clients with SEO / lead generation experts not just web designers. Maynard Marketing chose to make this move because so many businesses are looking for new customers and feel their website is not helping them.
Liam Maynard also said "We want to give our customers the prosperity they deserve in their businesses. With our new White Rock SEO Website Optimization service, they have a fresh new possibility. We want them to feel a sense of abundance when using our service. Trying something new is always a risk, but it's a risk we believe is worth taking."
Maynard Marketing has been in business since 2016. Since Day 1 it has always aimed to be a premier SEO services provider and internet marketing consulting agency serving business and professional clients throughout Canada and the United States.
This isn't the first time Maynard Marketing has defied convention either. In October 2017 they caused a stir when they launched their free 'Keyword Valuation Report' for small – medium sized businesses.
The new White Rock SEO Website Optimization service is set to launch 16 Jan 2018. To find out more about the service and Maynard Marketing, visit https://www.iamliammaynard.com to call or e-mail the company.
Release ID: 287480