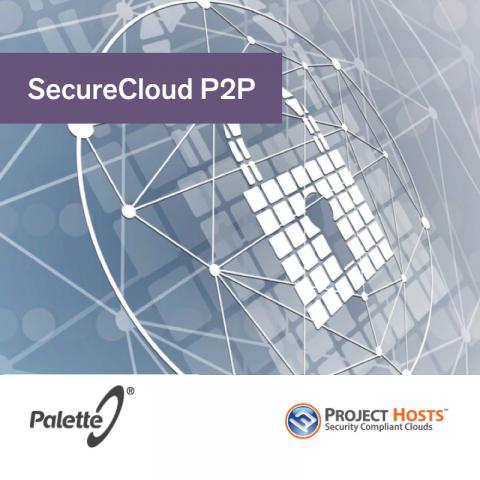 - January 18, 2020 /PressCable/ —
Palette and Project Hosts have made available SecureCloud P2P, an ultra-secure white label Purchase to Pay cloud service for banks and financial institutions. The two companies came together to design and deploy both private and public cloud environments offering unparalleled uptime, infrastructure, security, compliance, and support.
Big changes are underway in the market for US financial institutions. Both banks and Fintech are strengthening customer relationships and diversifying the footprint of solutions they offer, maximizing both revenue per client and customer retention.
Banks are looking to leverage treasury management service revenues, attract new customers and maximize customer retention. Banks are also striving to become more agile and competitive with Fintech.
Both banks and Fintech are highly regulated and embracing technology as a way to deliver new product solutions. Where Fintech organizations have grown up on technological advancements, banks have invested in brick and mortar with elaborate back office and IT operations. Overall, banks have been slower to embrace client-facing technology.
Purchase to Pay (P2P) technologies for B2B, B2G and B2C processes bring significant value to supply chain finance initiatives. These processes drive large volumes of dollar transactions that can be the basis for other solutions. That could include repurposing lockbox operations into data capture centers similar to business process outsourcing (as opposed to check processing whose volumes are in decline), provide factoring opportunities leveraging huge deposits from the supply chain, and payment solutions which could be check, ACH or Cryptocurrency based.
"Corporations are looking to improve the quality of their data entry, shorten approval process cycles to take advantage of negotiated discounts, improve PO utilization in an effort to defer fraud, and electronically archive business documents for auditing and other historical functions," said Michael Cichy, Palette Software, "As well, the growth in technology spend to shore up corporate back office processing is higher than ever."
This growth has been fuelled in part by SaaS, which does not require a great deal of capital outlay. If banks plan to develop a P2P product it would take years of development and the end product would not match market leaders. Ultimately banks and Fintech want be the established P2P brand for their client base, so white labeling industry leading software is an excellent solution.
Palette and Project Hosts have published a Whitepaper about the platform that is available for download: https://www.palettesoftware.com/whitepaper/securecloud-p2p-white-label-purchase-to-pay-platform-for-financial-institutions/
About Palette Software
Palette Software is a market-leading vendor of financial process automation for domestic and global corporations. Palette solutions automate the connecting and matching of purchase orders, invoices and contracts, on-premise or in the cloud. Customers experience significant and measurable cost savings, productivity gains and operational excellence. Palette solutions are GDPR compliant and optimize financial management for more than 4,000 customers in 50+ countries. With 25 years of experience, Palette and its partners offer automation solutions for organizations of all sizes worldwide.
About Project Hosts
Project Hosts implements security and compliance on Microsoft Azure for the US Federal government, healthcare organizations, financial institutions and commercial enterprise. Project Hosts' pre-audited environments give organizations turnkey compliance for their applications, removing a key barrier to migration from on-premise deployments into Azure.
Project Hosts environments hold certifications and authorizations from ISO 27001, HIPAA, HITRUST, FedRAMP, and the DoD, including a DoD IL5 PATO. Project Hosts is just 1 out of 7 companies to achieve this authorization.
Healthcare organizations, federal, state and local government agencies, financial institutions and commercial enterprises rely on Project Hosts to ensure they have a cloud solution that meets their business needs, their budget and most importantly, protects their organization, employees and data from unauthorized access or theft.
# # #
For more information regarding Palette Software contact:
Michael Cichy
Palette Software
Phone: 508-341-8101
Email: Michael.cichy@palettesoftware.com
For more information regarding Project Hosts contact:
James Ford
Project Hosts
Phone: 814-790-2521
Email: james.ford@projecthosts.com
Release ID: 88943211