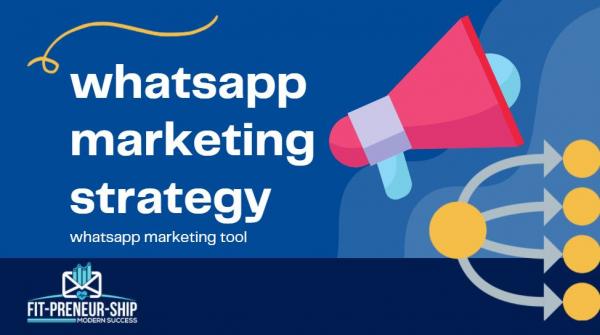 - September 19, 2021 /NewsNetwork/ —
As social media marketing approaches gain more attention across the business world, the new report looks into the less well-known platform and some of its benefits.
The new report can be found at: https://fitpreneurship.com/online-marketing/3-steps-to-your-whatsapp-marketing-strategy
Readers are introduced to several techniques that can be used to leverage WhatsApp's features, which FitPreneurShip suggests can be just as effective for marketing as other social media platforms.
According to research conducted by GE Capital Retail Bank, over 80% of consumers conduct online research before deciding to make a purchase. Given the unquestioned trend towards digital markets, it is no surprise that online marketing is at the forefront of most advertising campaigns.
Most of today's marketing agencies will promote some form of social media marketing, but many businesses remain unsure how effective these approaches really are. With the latest report, FitPreneurShip provides a 3-step solution that any business can deploy.
Unlike Facebook and Instagram, WhatsApp is not commonly used for advertising. As the author explains, the first stage in developing the application for marketing purposes is to build a contact list. Several promotional methods are suggested that can help in this respect. Known as 'lead magnets', entrepreneurs are encouraged to be creative with the promotional deals they offer in exchange for a client's WhatsApp details.
However, FitPreneurShip stresses that gaining more subscribers will be wasted effort if the content a business provides is not relevant. Understanding the target audience is a cornerstone of any marketing approach, and using WhatsApp to generate interest is no different. Those new to digital marketing should remain mindful of their subscription list and promote services that they would be interested in.
The report also highlights one potential obstacle entrepreneurs might face when using WhatsApp as a marketing tool. The platform has an upper limit of 5 groups or individuals that any one message can be sent to. The company has explored this limitation, and suggests several applications that can be used to overcome it.
About FitPreneurShip
The company combines modern aspirations of financial independence and physical wellbeing in its unique training programs. Those seeking a career as online business owners are taught how to utilize modern technology and health approaches to create a financially and personally rewarding lifestyle.
Interested parties can learn more about WhatsApp marketing by visiting: https://fitpreneurship.com/online-marketing/3-steps-to-your-whatsapp-marketing-strategy
Release ID: 89046075