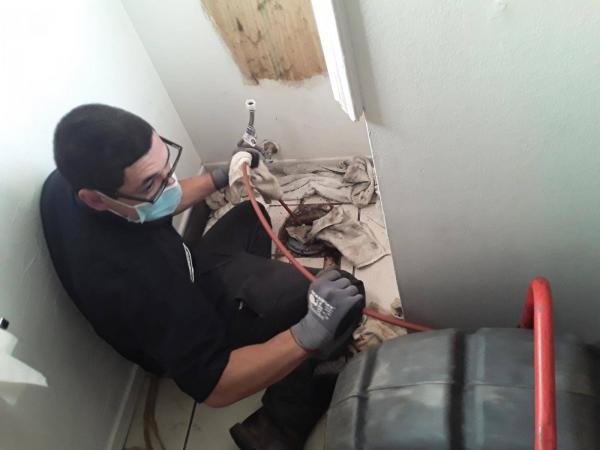 - November 15, 2020 /PressCable/ —
Suburban Plumbing, a full-service Orange County, California plumbing repairs company based in Westminster announced to its formidable customer base that it is continuing its slab leak detection services in the midst of the ongoing coronavirus pandemic, its technicians responding to the added stress placed on plumbing systems during these challenging, almost unprecedented times.
"With everyone spending more time at home and using more water, older and corroded pipes are feeling the pressure, making them more susceptible to leaks," explains Johnnie Maynard, owner of Suburban Plumbing. "When disaster strikes, the first step to take is to locate the source of the leak before going on to minimize the damage. A lot of homes and businesses in the Westminster area are built on concrete slab foundations, and of all the plumbers in Westminster, we understand that plumbing pipes located directly below the property have very little, if any, type of 'buffer.'
"This, in turn, leaves them vulnerable to high pressure, critters and environmental conditions, in addition to corrosion, rust and chemicals getting into the water, playing a part in creating water leaks."
Because slab leaks are known for causing silent damage, Suburban plumbers have been advising customers to look for certain signs, including keeping an eye on the water bill, checking for hot spots on the floor, taking a good look around the outside of the property and looking inside the structure for cracks in the ceilings or walls.
For more information visit https://suburbanplumbingoc.com/westminster-plumber/
"Here's what we often tell customers: They can attempt to look for slab leaks themselves by poking random holes in the walls, tearing up floor boards and digging around the yard, or they can call a professional Westminster plumber who boasts the right equipment to find the smallest leaks, repair the leak and restore their home to good-as-new condition – saving money, time and frustration," adds Maynard.
When it comes to taking precautions in the event of a leak, Suburban Plumbing recommends not removing excessive water with a household vacuum, standing on wet flooring when using electrical appliances, going into a room if the ceiling is compromised from trapped water or waiting to obtain professional help. The first objective, say Suburban plumber teams, is to turn off the water and locate the source of the leak; if this is uncertain, it is imperative to contact a company such as Suburban Pluming because water leaks can be very destructive.
"The longer one waits, the more damage and expense can occur," says Maynard.
According to data analyzed by Suburban Plumbing staff, the average American family wastes 10,000 gallons of water each year because of dripping faucets, running toilets and other plumbing leaks – with an estimated trillion-plus gallons leaked from American homes every year. Because piping infrastructure, unfortunately, doesn't last forever, hairline cracks and pinhole leaks are caused by everyday wear and tear, as well as minerals in the water and poor installation.
Suburban Plumbing is California licensed, bonded and insured, offering everything from drain cleaning and trenchless sewer repair to general plumbing services, water heater repair, slab leak services, commercial plumbing and more. The company is located at 14933 Adams Street in Midway City and can be reached by calling (714) 922-3555. For more information visit their above cited website.
Release ID: 88985758