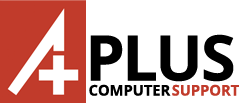 - September 26, 2016 /PressCable/ —
The South Florida computer repair, and data recovery company, A Plus Computer Support, which has over 20 years of experience in the computer repair and IT industry has moved their operations and service center to a larger retail location, in order to serve the West Palm Beach community more effectively, and conveniently.
A Plus Computer Support provides tech solutions to local business and residential clients, specializing in laptop and computer repair, virus removal, advanced data recovery, cloud storage, cell phone and tablet repair.
Company President, Todd Trahan stated, "In order to meet the needs of our neighbors in the South Florida community, we've expanded our facilities, by moving our operations to a new retail service center location at 1748 S Congress Ave, in the Publix Plaza in Greenwood Shopping Center, next door to GameStop".
The new West Palm Beach service facility is now located on a major road, as well as boasts a reception area with a granite counter top, leather couches, and glass tables. The new 1400 square foot space provides an enhanced client services area, larger work flow capacity, a certified clean room for data recovery, and offers same day cell phone repair, and tablet repair for Android and Apple devices.
Mr. Trahan said, "Keeping up with the growing demand for the services we offer, and providing our clients a better customer relations environment, is only part of our reason for this expansion. We wanted to give our dedicated employees, technicians, and engineers a more suitable atmosphere in which to exercise their knowledge and skills. We want our organization, and our people to grow to new heights, ultimately perfecting customer satisfaction, while providing a more reliable, friendly, and quick experience for our clients".
Locally, residents have access to the more familiar retail chain stores like Best Buy, Staples, and Office Depot for the same services A Plus provides. Many of these large department stores do not have the onsite facilities for some computer repairs, and data recovery, that require advanced equipment, or a clean room. This means they have to outsource these jobs to a central repair hub, or send the customer to a company like A Plus for those types of repairs. Many times, this translates into more downtime and increased cost for customers, who may already be under-the-gun, so to speak.
This move makes A Plus Computer Support the only one-stop retail provider of computer repair, cell phone repair, and advanced clean room data recovery in Palm Beach County. This means A Plus performs all repairs and recoveries locally, where the job can be completed without having to send anything out (or outsource it), to get the job done.
When asked about the driving force behind the A Plus business model, Mr. Trahan replied, "Until now, the West Palm Beach area, Palm Springs, and essentially all the surrounding communities in Palm Beach County had mostly the large retail chains for computer repair, cell phone repair, and data recovery. On the other side, they have the smaller repair shops, which often times don't have the equipment, and knowledge, to keep up with the service demands of modern technology. We've solved that problem for them!".
Customer satisfaction, and education, are a couple of A Plus Computer Support's major focuses. The company's desire is to develop long term relationships with the community, with residents, educators, business, and government clients, to help keep technology viable for everyone that uses it in Palm Beach County.
When arriving at A Plus Computer Support, front and center, is an upscale friendly atmosphere with technicians who are ready to help, educate, and perform any repairs needed with precision. A Plus techs are patient, willing to explain in detail, and capable to solve the many issues that cause people to become frustrated with technology, as well as help prevent data loss that may be associated with these technical problems.
A five star review left by one of many clients, known only as Will M, said, "Matt was so helpful! I got really personalized care, the kind you can't get from a big chain store".
Release ID: 133598