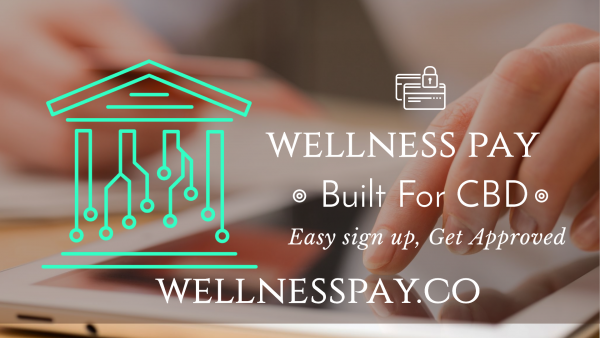 - April 29, 2021 /PressCable/ —
WellnessPay.co with decades of experience launches a new payment processing program to support CBD merchants gain fast US-based approvals. With the launch of their quick approval process, WellnessPay.co aims to serve the growing need better to accept US-based online payments for CBD and hemp business owners. WellnessPay.co provides merchants with their CBD merchant accounts and payment gateway to connect with over 100 shopping carts, including platforms like Wix, WordPress, WooCommerce, and SalesForce.
WellnessPay.co was created to serve the entire wellness industry, including direct selling organizations and multi-level marketing companies with wellness products. They are expanding the WellnessPay.co fast approval process for CBD and hemp businesses based in the United States, including CBD multi-level marketing companies. WellnessPay.co works with CBD companies of all sizes, including small and medium-sized enterprises starting an e-commerce store.
The WellnessPay.co domestic processing program provides secure, affordable payment processing for CBD merchants in the United States. The e-commerce program lets CBD and Hemp merchants accept payments online from their business' website shopping cart. WellnessPay.co also can provide merchants a virtual terminal to authorize, process, and manage mail or phone credit card payments from any computer.
CBD merchant accounts are priced on several factors, including the perceived risk of the account to the processor in terms of regulatory trouble or chargeback losses and the gross processing volume.
WellnessPay.co will work with all CBD and Hemp ecommerce companies to try and get them approved for US domestic processing solutions, which aids in reduced costs for the companies.
WellnessPay.co have assisted many companies with their partner network to help them scale their companies with needed solutions ranging from International Payout Solutions, to Artificial Intelligence For Marketing, Mobile App Development, and Premium Media Placements. WellnessPay.co is the CBD payment processing partner for scaling organizations.
To learn more, visit: https://WellnessPay.co
About WellnessPay.co:
WellnessPay.co is a California-based internet business providing payment processing and merchant account services to start-ups and established CBD businesses in the United States.
Release ID: 89007248