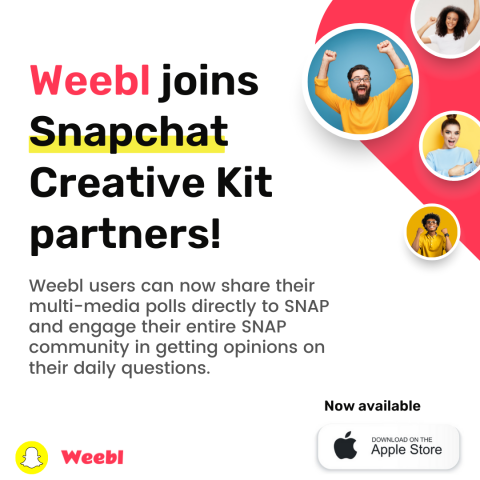 - October 4, 2021 /PressCable/ —
With Weebl's recent SNAP Creative Kit approval, they are now seemingly one step closer to their ultimate goal of app interoperability. Weebl users will now have the ability to create short video and audio polls, add images or links, and share them directly from Weebl to their SNAP accounts, engaging their SNAP community in their daily questions!
Cross-platform sharing has been a core tenet of the Weebl app since its inception earlier this year. The founding team at Weebl believes interoperability between social media apps is going to be an inevitable part of our future interaction with social media and can only benefit the tech and social media ecosystem as a whole. Weebl plans to continually encourage its users to include friends and followers from their other social media accounts to participate in voting, opinion sharing, and interacting with the senders poll questions. Even though, recipients of Weebl polls don't need the app in order to vote or see the results. Weebl only needs to be downloaded if they'd like to comment, like, and create their own polls.
With this recent announcement, Art Binder, Weebl's Co-founder and CMO said "SNAP is unquestionably one of the most innovative and forward-thinking apps in today's social media space. Creating a symbiosis with SNAP and allowing our users to extend Weebl functionality into their SNAP community is an important step in the right direction for us".
One thing that's evident is a shared sentiment throughout the team at Weebl, which is companies simply can't be scared to let their users leave the app. "If you provide users with a fun, safe, and compelling experience, they will return to your app," said Weebl's CRO, Ranjit Kohli. Users are quickly catching on to the tricks of big tech and their use of AI-driven algorithms designed to keep their users confined to their social media platform. Weebl thinks the industry needs to take a more human approach, with algorithms acting as an ancillary component of the user experience, used to enhance it, not define it.
The company, with its official App Store release only days prior, is hyper-focused on delivering as much value as possible to its early adopters. The SNAP integration is a critical component in elevating the user experience and the Weebl team will continue to seek partnerships and seamless integration with other platforms in the near future.
———
Weebl is available on IOS today!
———
Are you a social media influencer or maybe a friendfluencer? Email community@letsweebl.com to learn about the benefits of being part of the Weebl influencer community!
Release ID: 89047774