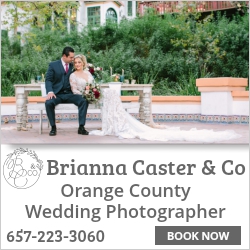 - December 19, 2017 /PressCable/ —
Wedding photographer in Orange County Ca- Renowned award winning, Brianna Caster, has proudly announced that she is offering a wide range of wedding and engagement photography services in Orange County, California. Brianna Caster was recently awarded the 'Couple's Choice' award from a renowned publication called 'Wedding Wire'. Being a newlywed herself, the bride and photographer has a special place for weddings and relationships in her heart and her clients simply love the work she does.
"Brianna Caster is an expert Wedding Photographer in Orange County. She's irresistibly fun-loving, fresh and full of ideas that create gorgeous looks to last a lifetime. Brianna is always prompt and has a great eye for telling an impactful story through the lens, capturing those candid moments, laughs, whispers and little facial expressions that say a million words" quoted from Wedding Wire.
"As a newlywed myself, I feel like I have a better understanding and a clearer perspective of weddings and how couples are exactly feeling on their big day." Said Brianna Caster, while talking about wedding photography. "I am a girl who started dreaming about her wedding day since I was 10 years old and for me, every single wedding that I cover is very special." She added.
In addition to weddings and engagements, Brianna Caster is also one of the top rated baby and family photographer's in Orange County. Her clients have rated her as their number one choice for making special moments unforgettable and turning them into art that can be preserved in the form of photos. In the past eight years of her business, she has covered hundreds of events, especially weddings and couples photoshoots that have earned her the prestigious award of Couple's Choice this year.
For more information about Brianna Caster Photography, view her photo gallery or to book an appointment, please visit:
Release ID: 279705