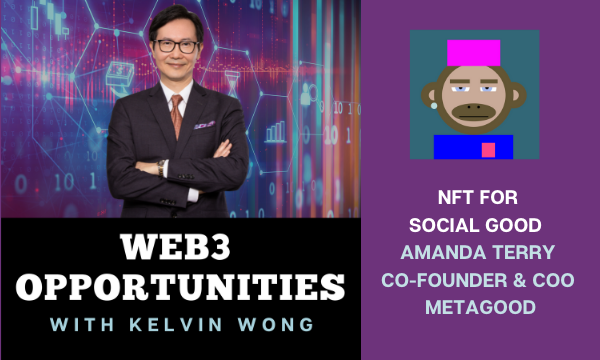 - February 21, 2022 /PressCable/ —
Web3 Opportunities podcast has published a new episode on NFT for Social Good. In this episode, Kelvin Wong, Host of Web3 Opportunities podcast, talks with Amanda Terry, Co-Founder & COO of Metagood. Metagood is an NFT for Social Good platform that Terry co-founded with Bill Tai and Danny Yang.
Wong and Terry discuss a number of topics including:
· How NFT can be used to do good in the real world
· Examples of social good projects empowered by NFT
· Why NFT is such a powerful tool to support good causes
· The future of NFT
· Metaverse
· Transition into crypto space
"This podcast is for people who want to learn about Web3, blockchain, crypto and related topics. People who may not necessarily come from a technical background," said Wong. "In Web3 Opportunities podcast, I chat with some of the brightest minds in blockchain and crypto space. We cut through technical complexity, focus on applications and unpack practical nuggets that listeners can potentially use to discover investment and career opportunities arising out of this exciting evolution."
Wong added, "In this episode, Amanda shares with us her insights on doing good and doing well by using NFT, creating a community of like-minded people and supporting a good cause. It's a revolutionary concept."
"Wonderful to connect with Kelvin and share more about OnChainMonkey that has been doing well by creating value for our community and doing good like helping to evacuate Sharbat Gula and her family from Afghanistan to Italy," said Terry. "We're a group of Web3 builders that believe we can tokenize good karma and catalyze positive collective actions from our community that make real world impact."
This episode can be found by visiting www.web3opp.com
About Web3 Opportunities Podcast:
This podcast is for people who want to learn how Web3 disrupts industries and discover investment and career opportunities in the crypto economy, without being bogged down by technical complexity.
Hosted by Kelvin Wong, Creator of JPMorgan's Strategic Solutions Group. Kelvin chats with some of the most innovative founders, investors and thought leaders in Web3, blockchain, crypto, metaverse, DeFi, NFT and DAO space. Listeners come away with exciting ideas about opportunities emerging in Digital Asset Ecosystem.
Web3 and blockchain evolution is expected to disrupt all industries, like the previous versions of internet did, except in a more significant way and at a faster pace. Get ready for one of the largest technological transformations in history. Wong invites you to join him on this exciting journey of learning and discovery.
For more information on Web3 Opportunities podcast, visit www.web3opp.com
About Metagood:
Metagood is a for-profit company that strives to build a better future for Web3 while doing good along the way. Through its first NFT project OnChainMonkey, which was the historic first profile picture collection all on chain in a single transaction, Metagood has simultaneously created value for its community members and contributed to several important causes. They are launching a DAO to invest in Web3 projects that create value for the OnChainMonkey community and do real world good.
Co-founded by CEO Danny Yang (founder of Maicoin, Taiwan's largest crypto currency exchange, Blockseer, and the Stanford Bitcoin Meetup), COO Amanda Terry (digital media business development executive at Twitter who founded ACTAI Ventures, a fund to invest in early stage tech startups) and Chairman Bill Tai (a legendary venture capitalist who was the first investor in Zoom and early investor in Wish, Canva, Dapper Labs and over 20 companies that have become publicly listed), Metagood's investors and community includes crypto and NFT pioneers Sebastian Borget of Sandbox, Gabby Dizon of YGG, Jeff Zirlin of Axie Infinity, Roham Gharegozlou of Dapper Labs, Charlie Lee of Litecoin along with celebrities Owen Wilson, Apolo Ohno, Guy Oseary, Woody Harrelson and social impact leaders Holly Branson of Virgin Unite, Gigi Brisson of Ocean Elders, and Poonacha Machaiah of the Chopra Foundation.
Learn more at www.onchainmonkey.com
Release ID: 89065055