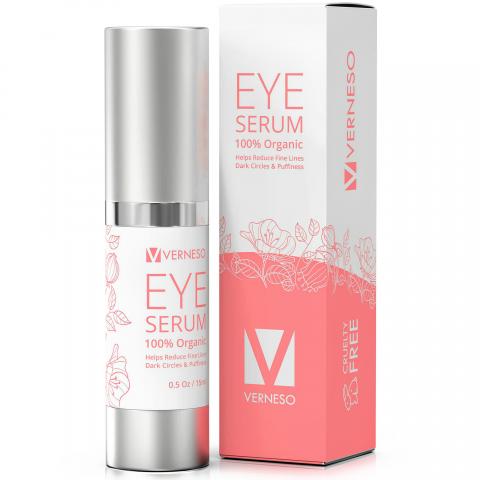 - October 18, 2019 /PressCable/ —
Verneso in association with the Digital Trade Group Inc. will premier the company's brand new product — Verneso Bee Venom Eye Serum. This time it's not just one of the many beautifying "potions" that help put on a pretty face early in the morning, right before catching the bus to work. It's more of a health-protection elixir, with an admirable side-effect — skin rejuvenation.
Made of purely organic vitamins, minerals and polypeptides, Bee Venom Eye Serum offers a gentle touch to the everyday skincare routine.
Specialists at Verneso are lab-coated wizards, who create their magic through decoding chemical formulas and meticulous study of the skin restoration mechanisms. After a period of experimenting, a remarkable discovery was made soon enough: the bee poison gives the human skin a stimulus, which in turn tangibly reverts its aging.
In other words, bee venom grabs an imaginary lash and "whips" the old and slobby skin cells until they:
– Begin producing collagen at a much faster rate.
– Increase the amount of protein.
– Get clean and healthy.
– Launch a more intensive blood circulation.
As a result, both the brain and the skin literally get tricked into "thinking" that epidermis got stung by a rather unfriendly and grumpy bee. Engines get going, the healing process begins and the skin cells have no other option, but to be reborn like a Phoenix. It looks like the bee venom isn't just a repellent, used to scare away a random sweet tooth bear with a mighty appetite. It is also a key component to making the time itself go backwards. And of course winning a few years of the youngness back, which is always a good thing.
Apparently, Verneso team doesn't think that using organic ingredients is merely a passable whim of fashion. On the contrary, Bee Venom Eye Serum contains such non-aggressive, natural and skin-friendly ingredients as:
– Shea butter.
– Cucumber extract.
– Caffeine.
– Sunflower oil.
Omitting all the biochemical mumbo-jumbo: the facial skin gets shielded by a magnificent trio of collagen, elastin and hyaluronic acid. Meanwhile the first two are hard at work maintaining the general skin tonus, the latter is responsible for regulating the right balance of water in the human body.
As a result, the skin feels silky smooth and has that fresh, youthful gloss. Additionally, the eye area remains radiant, dark circles and puffiness get reduced. Wrinkles, along with the fine lines, get firmed up and turn into a ghostly memory not worth being nostalgic about.
A vitamin-rich recipe like this only proves that taking care of both stunning looks and sound health will always be a strongly hyped trend. (Unlike tulle overdresses or baggy hip-hop pants from the early 2000s).
About Verneso
Verneso (http://verneso.com) is an American online native beauty brand. It specializes in providing products and means to help women feel and look fabulous beyond compare. The company believes that the desire to stay beautiful is absolutely natural. Therefore only the purest of Mother Nature's gifts can be applied for making products, which help retain gorgeousness and everlasting youth. To confirm these words, the company runs all of its products through cruelty-free testing and buys ingredients only from the American eco-friendly suppliers. Verneso's philosophy can be explained this way: Rock it like a Rockstar, but don't forget to pay homage to Nature.
Release ID: 88928599