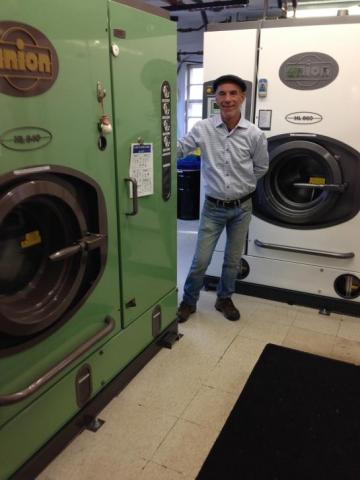 - May 17, 2018 /PressCable/ —
"Now we're set up and ready for the next generation of customers," says Kevin Dynan. He's the owner of Wayzata Home Laundry & Dry Cleaners, which was started 60 years ago by his parents. He's talking about a slew of recent upgrades, which were unveiled and shared with the community during a May 9 ribbon cutting ceremony coinciding with an open house for the members of the Wayzata Chamber of Commerce.
Attendees were given a tour of the newly remodeled facility, where they learned about the new environmentally friendly cleaning processes Dynan has installed. It was an opportunity to see how each step of the laundry and dry-cleaning process is completed, which all happens on site.
The second generation of this family-owned business wants to be out front and leading the industry's change to less toxic and more environmentally friendly laundering processes and dry-cleaning fluids. Dynan had already switched to a biodegradable and nontoxic soap that customers say gets clothes cleaner.
But, there's another process which must be used for garments that cannot undergo wet-cleaning. This alternative traditionally uses a chemical called perchloroethylene or "perc." Dynan says his family began using it in 1968, but he knew it was time to switch to a more responsible choice when the neighboring city of Minneapolis became the first in the nation to ban the use of perc.
Dynan had to invest in new dry-cleaning equipment to run the environmentally friendly hydrocarbon-based replacement to perc. Help with this upgrade came in the form of a low-interest loan from the Minnesota Pollution Control Agency. Dynan says that the equipment upgrade has been a success all around. He adds that the process is gentler on clothes, and customers appreciate knowing they're supporting a business that cares about the environment.
Dynan is pleased with the switch from an operational standpoint, as well. He says that he uses much less of the new hydrocarbon dry-cleaning solution. "It's less expensive to dispose of than perc," he says, "which is now classified by the EPA as a hazardous waste." The older machines were also much costlier to maintain.
The dedication to new environmentally friendly equipment is contributed to Wayzata Home Laundry & Dry Cleaners receiving its second Sun Media Readers' Choice Award.
The home laundry and dry cleaner got praise from readers about service—but also for innovation and convenient features like their 24-hour drop box, and free pick-up and delivery services. The business features a website map which shows the area they can service. Wayzata Home Laundry & Dry Cleaners also features monthly special offers like the "Dirty Dozen" – 12 shirts laundered for a special price, every Wednesday. Local residents can sign up to receive monthly emails with the specials and coupons.
About Wayzata Home Laundry & Dry Cleaning: Wayzata Home Laundry & Dry Cleaning has been serving the Wayzata and Lake Minnetonka communities since 1955. It is a full-service cleaner, offering dry cleaning, shirt laundry, tailoring and alterations, household good cleaning, and wash/dry/fold services. The family-owned business offers free pick-up and delivery service, as well as a 24-hour drop-off at their convenient Wayzata Boulevard location.
Release ID: 346368