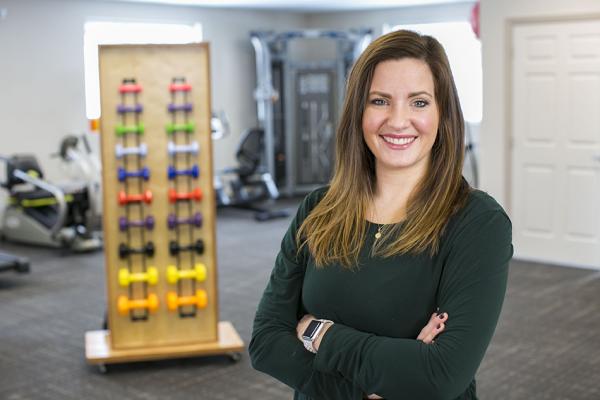 - November 15, 2019 /PressCable/ —
HealthWorks Rehab & Fitness, a physical therapy organization, proudly announces the grand opening of its ninth clinic in Waynesburg, PA. To celebrate, the Waynesburg clinic is offering free physical therapy screenings from November 18-29th. Area residents who would like to take advantage of the free screenings should call (724) 802-7395 to set up their appointment.
More information is available at https://www.healthworksrf.com/locations/waynesburg/.
The Waynesburg HealthWorks clinic, located at 160 Greene Plaza in Waynesburg PA 15370, is managed by Sara Stepp, the new clinic's director. A native to Greene County, Stepp is an experienced physical therapist with a dual license in athletic training and outpatient physical therapy.
Sara is passionate about neuromuscular rehabilitation. As such, she has treated patients with Parkinson's disease using the clinically proven "LSVT Big" technique.
Sara has also worked with Division I athletics at both West Virginia University and Coastal Carolina University. Her knowledge of athletic injury and recovery is profound, and she's assisted many injured athletes return to play after various levels of trauma. Sara values patient care, individualized treatment plans and aims to cater her insight and professional knowledge to treat her patients successfully.
When asked about her new position and the new clinic, Sara said:
"I am honored and unbelievably excited to be named the Clinic Director for the new Waynesburg HealthWorks! It is an excellent location just off of I-79. it's central to many of the local schools including my own Alma Mater Jefferson Morgan–Go Rockets!–allowing local athletes to get the excellent care they need without the drive into Morgantown. It is a unique facility for the local community to consult with not only for orthopedic injuries but also for those with neurological impairments such as Parkinson's Disease."
HealthWorks Rehab & Fitness treats musculoskeletal injury and neurological disease through physical therapy, occupational therapy and fitness programs. The group of clinics aim to help people from all backgrounds achieve their goals, whether they are looking to return to work or sports or simply regain strength to carry out daily activities after injury or illness.
When asked about the new clinic and Sara Stepp's appointment as the director, a spokesperson for HealthWorks Rehab & Fitness said, "We're excited about the opening of this clinic as it means that we can help more people realized their health and fitness goals. Sara has so much experience in all aspects of fitness and rehab, so her appointment as director for the new Waynesburg clinic was essential to making this clinic the best in the region."
The official Grand Opening celebration will be held on Wednesday, November 20th from 11am to 1pm. There will be a ribbon cutting ceremony with the Chamber of Commerce at noon, and local radio station 101.9 WVAQ will be covering the event live.
To find out more about the Waynesburg HealthWorks Rehab & Fitness Clinic's grand opening and the clinic's services, call (724) 802-7395. Site visitors can also learn more about HealthWorks and their other site locations such as Morgantown, Westover, Mon Health Medical Center, Cheat Lake, Blacksville, Smithfield, Fairmont and Buckhannon.
Release ID: 88934255