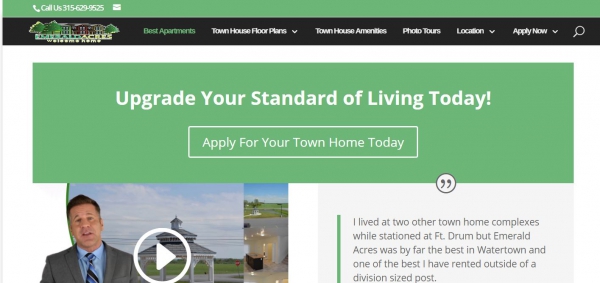 - June 29, 2017 /PressCable/ —
Emerald Acres Town Homes officially was designed in 2013 to serve the burgeoning Population in Watertown and Fort Drum NY. In order to serve their current customers and new customers better Emerald invested in a new Website allowing each client to receive a more personalized Service and better quality of life as a resident.
Officially opening for business in September of 2013 Emerald Acres Town Homes, the go-to spot for Apartments and Town Homes in Watertown and Fort Drum, just refreshed it's Website. Now customers from around the county and around the internet will be able to view available Town Homes and Apartments and schedule appointments directly online. The new customer interface will also allow for current tenants to submit questions and requests directly from the site and follow them in real time.
Click to see the new Emerald Acres Town Home Website: http://emeraldacrestownhomes.com
Thomas King, a current tenant had this to say about the new site, "The new website is very easy to use and it is even easy to use on my phone."
Owner, Guy Javarone stated "We're happy to offer everything from the convenience of making an appointment online or via a mobile phone to exceptional living for people of all backgrounds and walks of life. We're a small quiet community just outside of Watertown and not far from Fort Drum serving all of Jefferson County. People have an incredible amount of choice in living arrangements in New York and being able to offer any online streamlined solution to client communication is a plus. Our goal is to make living at Emerald Acres as simple and painless as possible."
Committed to their clients, Mr. Javarone wanted to make access to onsite staff as easy and convenient as possible. While a tenant at Emerald Acres one can count on a professional maintenance staff and the most modern living facilities.
Release ID: 212405