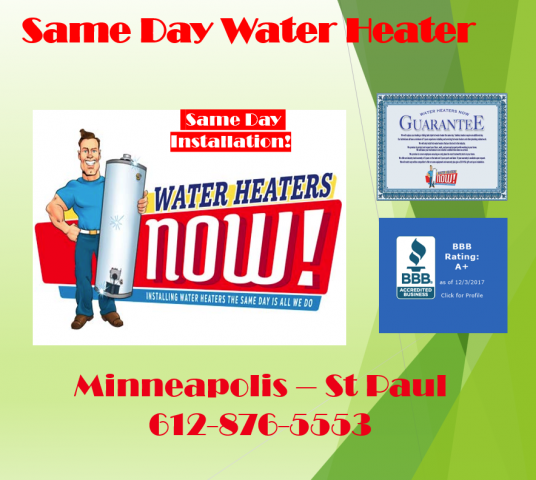 - August 25, 2018 /PressCable/ —
Water Heaters Now! announces that it now provides "Same Day" replacement hot water heater installation service to the communities of Crystal, Rosemount, Chaska and Champlin Minnesota.
This builds on the growth they experienced in the prior month when they similarly expanded Same Day Water Heater service to four other Minneapolis St Paul area suburban communities.
"We are pleased with our rapid expansion throughout the entire Twin Cities metro area," says owner Ray Snugrud. "People love our teams skill and speed." The result has been one of rapid growth for the firm which only does replacement water heater installations.
So far, people seem to be appreciating their experience with the firm. They have racked up a string of a dozen five star reviews on Google with no negatives at all.
"We currently serve the entire Twin Cities," says Ray. "But our specialty is our ability to provide immediate help to those who need it – today!"
"Eventually, we expect that to be the entire Twin City area as well, and we are getting closer to accomplishing that goal every month."
While their claim to fame is same day replacement water heater service, the firm also works with people and businesses who can plan ahead. They do a lot of tankless water heater installations, which take an additional day, to design and install. "These require proper sizing and much more effort in terms of piping and fuel supply. Each installation is unique," Ray explains.
They are thus more expensive to install, but Ray says most people end up being quite happy with the upgrade to Tankless water heating systems. "It's the environmentally 'green' thing to do" Ray insists.
Green because of its its better environmental impact and green in terms of subsequent long term fuel dollar savings. "However, the initial investment is more, and some people are hesitant about the newer technology and seem to prefer the traditional tanks style hot water heaters they have grown up with," Ray concludes.
Release ID: 398023