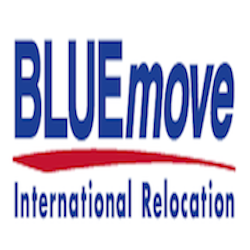 - September 15, 2017 /PressCable/ —
Columbia, Maryland-based BLUEmove International Relocation, an international moving management company specializing in moving US residents, businesses and diplomats overseas, has launched an on site pricing service. This service gives every client, whether a consumer, corporate or diplomat move the assurance that the price of their move will be accurate with no surprise charges from onsite quotation through to unpacking the goods at the final destination.
More information is available at https://blue-move.com.
Just released, BLUEmove's staff with over 20-years of international moving experience, helps to professionally price, manage and facilitate international moving and relocation services. These staff then visit the proposed moving site and estimate the cost of relocation. This procedure then ensures accurate pricing.
A moving surveyor carries out the pre-move survey or on-site estimation before moving. At an on-site visit, the surveyor views all goods and personal effects, makes sure there is enough space for a shipping container and then estimates the volume of the move and packing requirements. They will also ask for the date of departure and arrival, plus they'll discuss any specific needs and additional requirements as well as educate the client on laws and customs for the country to which they will be relocating to.
BLUEmove is proud to offer service to clients in Maryland, Northern Virginia, the entire Washington DC metro area, New York City and Pittsburgh, along with Connecticut and Houston, BLUEMove explains the moving process to their clients. This service includes what needs to be carried out before the moving date and on the actual day of moving, a time line of when the move will be taking place and approximately how long it will take for the clients belongings to clear customs and be ready for delivery to the final destination.
BLUEmove is a full-service international moving company that takes care of all details when moving. They are quick and professional and handle all aspects of a safe and secure relocation.
BLUEmove specializes in international moves and as such the company caters to corporate and diplomatic moves as well as private moves, and they offer cargo and freight service and transit insurance options. BLUEmove understands the nuances of moving to another country as compared to a local moving company who may not be versed in international laws and customs that is required when selecting a moving company to transport belongings to another country.
To find out more about BLUEmove International Relocation Service, call 1 301 570 3306 or visit the link above.
Release ID: 239830