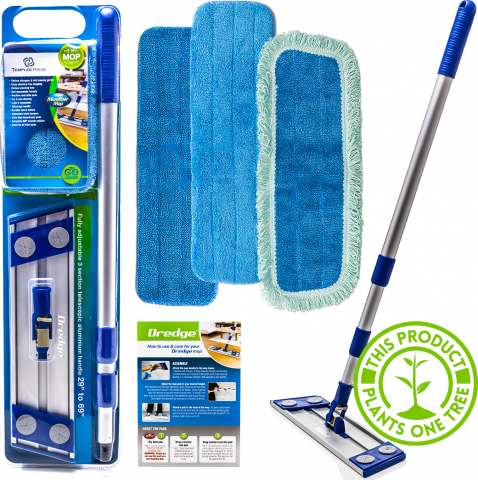 - December 28, 2020 /PressCable/ —
Temples Pride, the creator of the Dredge microfiber pet hair mop, set up a home test to evaluate the efficiency and speed at which their pet hair microfiber mop pad could clean pet fur off the floor compared to a vacuum cleaner. Among other things, the test results revealed that the microfiber pet hair mop pad was able to remove hair at a quicker rate than that of the vacuum cleaner.
The experiment took place in a home occupied by a family and their three dogs. In order to produce accurate environments for both methods, the same areas were cleaned, just on separate occasions. At the end of each test clean, the amount of hair collected was analyzed to ensure a fair comparison. The results showed that the vacuum took over twice as long to complete it's clean of the test area compared to the microfiber mop.
"There are a few things that contribute to making the mop quicker than the vacuum," said Brian from Temples Pride. "The mop is lighter, there is no cable, the mop glides effortlessly over the floor, it covers so much area with one sweep, you don't need to go over the same area twice. All these facts and attributes add up to create a really fast method for cleaning up pet hair and fur. On top of all that, you are also getting an incredibly clean floor because the microfiber pad is also doing a better job at dusting than a vacuum, which is also something that we have tested and found to be true."
Temples Pride was founded in 2015 with a mission to provide an environmentally friendly & effective microfiber floor mopping system. To further support their mission, they are dedicated to reducing their environmental impact by helping to protect critical forest habitat. For every mop that they sell, they plant 1 tree.
More information about Temples Pride and the Dredge microfiber mop is available on their website.
https://www.amazon.com/Professional-Microfiber-Resistant-revolutionize-Experience/dp/B01AZLM64G
Release ID: 88991284