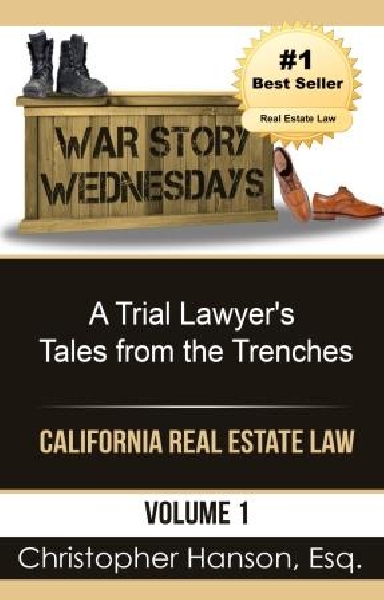 - April 8, 2015 /PressCable/ —
Christopher Hanson, a well-known San Francisco trial attorney specializing in real estate cases, is pleased to announce that his newly published book "War Story Wednesdays: A Trial Lawyer's Tales from the Trenches" recently achieved #1 Best Seller status in Real Estate Law on Amazon.
Mr. Hanson, who is a frequent speaker and teaches California real estate professionals Continuing Legal Education courses, wrote this book to help these professionals gain a deeper understanding of California's real estate laws. "Each of the cases described in this book is based on a true story. The cases involved real people who lost or gained real value as a result of a trial. Going through a trial, and then an appeal, is a serious thing." Mr. Hanson points out. "The emotional and financial tolls it takes on the participants can only be imagined by someone who hasn't lived through it. This book is designed to teach us what to do, and what not to do."
Mr. Hanson's book is available on Amazon at http://www.amazon.com/dp/B00UDOSLZO. Here's what some of the reviewers have said.
"These 'war stories' from the real estate profession, ranging from the wildly funny to the head-scratching and outright bizarre, are told in a funny, engaging and highly readable style. This book will delight everyone from those outside the field, who may just be curious about this whacky business, to those inside the profession who think they have been around the block and seen it all. As they will discover by reading this book, they have not. -Jerry Nussbaum, Kane and Associates Realtors
"Mr. Hanson is able to use his unique sense of humor to make case law enjoyable to read. The saying "you can't make this stuff up" becomes more apropos with each case scenario. War Story Wednesdays imparts practical knowledge and is must reading for every real estate attorney and professional in California. -Debra Samuels, Samuels Law
For More Information. For more questions or to schedule an interview about this press release, contact Mark Leonard, Author Liaison, at mark@CartwrightPublishing.com or 415-354-2388.
About the Author. Mr. Hanson started his career as a California Real Estate broker, and still has his license 35 years later. But for the last 18 years he has been a trial lawyer, not just a litigator. He is not afraid of (and actually enjoys) being in a courtroom. He's been called ingenious, tenacious, and strategic. He's also been called a pain in the ass who acts like a junk-yard dog. He feels really bad about that.
Release ID: 79015