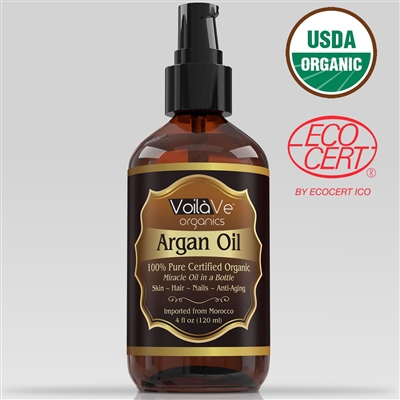 - October 12, 2015 /PressCable/ —
VoilaVe, a leading natural skin care products manufacturer, introduces pure organic certified Argan Oil. Made from 100% pure, organic, cold-pressed, Moroccan Argan Oil. VoilaVe has sourced pure organic Argan Oil from Morocco and has taken the extra step to get Organic Certification from Ecocert and and holds another certification by the U.S. Department of Agriculture as an authentic, purely organic product. This means these two bodies have inspected and certified it as truly organic, free of pesticide contamination, making it safe for cosmetic use.
This multi-purpose essential oil can be used to addresses a wide array of cosmetic conditions, including dry skin, frizzy hair, thin, cracked nails, and wrinkles caused by sun damage and natural aging. It is made with VoilaVe's philosophy of sourcing the finest natural ingredients from around the world then bottling them in their state of the art lab and manufacturing facility here in the United States.
VoilaVe captures the significant benefits of Argan Oil that native Moroccans have enjoyed for centuries. The rich, organic oil addresses a wide range of cosmetic needs, most notably as an all-natural moisturizer for skin, hair, and nails. It is extremely versatile and also yields remarkable results when used to treat acne, sun damage, blemishes and wrinkles. It is the beauty app in a bottle.
The natural chemical properties of VoilaVe's Argan Oil makes it beneficial for the skin. It is rich in Vitamin E and essential fatty acids, two ingredients that make it effective for moisturizing dry, irritated skin. Its fast-absorbing formula dries quickly. It is also anti-inflammatory, non-irritating and works quickly to restore the skin's elasticity.
Because of the versatile nature of VoilaVe's Argan Oil, it is suitable for all kinds of skin and for use on the entire body, including rough spots on the elbows, feet, and hands. It is appropriate on acne-prone skin, as it does not cause irritation or breakouts. Another very popular use is to soothe the skin after waxing or grooming. Argan Oil has been shown to relieve unsightly razor burns along bikini lines, combats the unpleasantness of psoriasis, and diminishes the appearance of stretch marks.
VoilaVe's Argan Oil has been tested to be effective for all hair types and several conditions common to all of them. It helps add luster to dry and brittle hair, while simultaneously strengthening weak roots. The oil is used in Morocco for frizzy hair, split ends, and to give hair a soft, silky, feel.
Since VoilaVe's Organic Argan Oil is 100% pure only a few drops are required to treat the entire body, so a 4-ounce bottle can last for months with daily use. The unique amber bottle protects the oil from the degrading effect of UV light and includes a premium pump, which makes dispensing easier than a dropper bottle and eliminates waste. It also makes it convenient for use in the shower or bath.
It is now available for purchase at Amazon.com as are VoilaVe's other cutting edge natural beauty products. If a consumer is not completely satisfied, a customer can simply contact VoilaVe within 90 days and receive a full refund, no questions asked. For more information about VoilaVe, please visit http://www.voilave.com/
Release ID: 93310