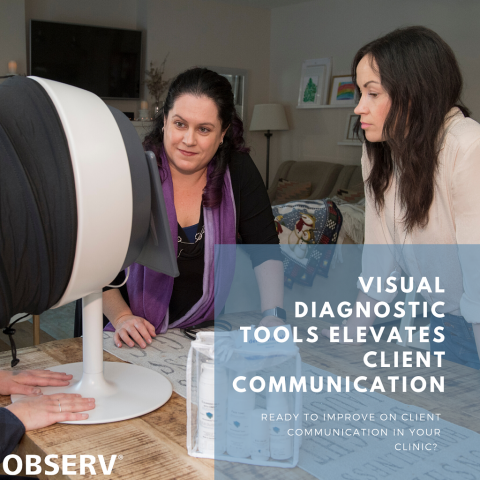 - June 3, 2020 /PressCable/ —
Earlier this year, Rene Serbon, Managing Director and Founder of Dermal Systems, had the honour of presenting at a private event for Stacey Ivrine where she shared the best practices to restore and maintain skin barrier protection, and why it is so important.
The event gave attendees the opportunity to take a journey beneath the skin and have in-depth discussions about the unique needs of their skin conditions thanks to the diagnostic capabilities of Dermal's Observ® Skin Diagnostic Device.
The attendees found it easier to understand when they could be shown the photos taken with Observ, which in turn led to determining the priorities for a recommended skin care regime.
The Observ® Skin Diagnostic Device helps accurately diagnose skin types as well as skin problems residing at the surface or hiding in deeper layers. The skin fluorescence and polarized light illumination technology reveals skin concerns with more clarity and contrast than other conventional skin fluorescence methods. Observ®'s diagnostic capabilities instantly reveal skin conditions allowing for targeted treatment plans to be formalized and enable consistent monitoring throughout the treatment cycle.
Notably, this type of device can improve communications between what clinicians see with the professional eye to clients, allowing both to visually see their progress through subsequent follow ups.
"The Observ assists in accurately diagnosing skin conditions beneath the skin surface," says Serbon. "By providing the possibility to store and compare client images, it's easy to track and respond to client's needs. In this way clinicians can provide clients with targeted visual advice in an objective and convincing way. This in turn increases the effectiveness of treatment plans."
The device itself is small and portable making it ideal for clinics of all sizes. There's no need for a bulky computer as the device integrates easily with iPads for ease of use. More about the Observ Device can be found at https://www.observ-diagnostic.com/
Release ID: 88960271