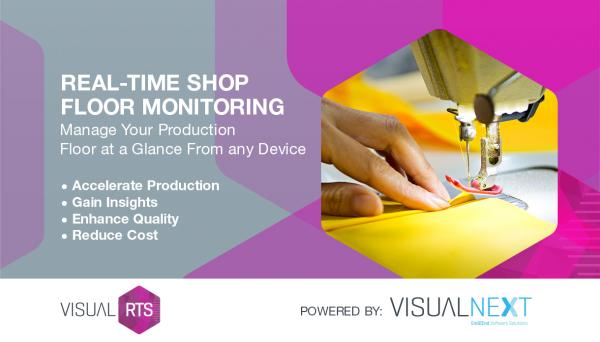 - March 12, 2019 /PressCable/ —
Visual Next Launches the All-New Visual RTS
Manage Your Production Floor at a Glance
FOR RELEASE MARCH 12, 2019
Montreal, QC, MARCH 12th, 2019 Visual Next, leading provider of End2End solutions, announces the launch of the new and improved application for Shop Floor Process Optimization using Capacity Planning, and Real-Time Shop Floor Monitoring. For two decades, Visual Next has been empowering manufacturers, factories and cut & sew companies of all sizes with best of breed fashion software solutions, with high quality configurability and sustainability at the core of its technologies.
The newly designed Visual RTS application provides manufacturing clients with an easy-to-deploy and device agonistic module built to streamline shop floor operations from employee management through embedded barcode ticketing all deployed over WiFi using smart devices for a low cost of ownership.
Visual RTS provides manufacturers and their facilities with secure access to real-time operational data deployed over WiFi. Factories utilizing this tool achieve greater visibility of their workforce productivity with built in analytics to make better business decisions and improve efficiencies and processes to deliver more products on time.
Visual RTS empowers manufacturers to build strong, collaborative shop floor work environments by facilitating communication between operators and management teams with SMS and chat functionality. Embedded ticketing and labeling with full barcode capabilities mobilizes the workforce with the scanning of individual operations tasked to an operator or machine, including measurement of completion against KPI metrics and inspections.
Charles Benoualid, VP of Research and Development at Visual Next, explains that, one of our greatest strengths has always been the fact that we are truly tailored to the apparel and fashion industry. As manufacturer s look for more progressive and collaborative relationships with their factories and we onboard more and more global manufacturers, we develop innovation to support their business requirements and enhance our solutions specifically to support the future of manufacturing. The supply chain requires speed to market and that is accomplished with a combination of relationships and technology to streamline every step of the product from concept to consumer.
Customers may purchase this module as a standalone or as an extension of their current Visual Next platform. Visual RTS connects directly to ERP systems in order to track and update production processes as it facilitates employee pay and enterprise wide production management. The module is easily integrated into any ERP solution and Excel with minimal hardware requirements.
Web-based and device agnostic, Visual RTS can be used via tablet, desktop, and mobile phone, and is integrated to payroll systems and finger scanners, so that time, attendance and pay will be calculated based on productivity. Dashboards provide real-time visibility and management of employee time and attendance, operator performance by task, machine diagnostics, and production metrics and much more.
Learn more about Visual RTS here: https://www.visualnext.com/real-time-shop-floor-monitoring/
About Visual Next
Visual Next provides End2End software to uniform, apparel, footwear and fashion accessory companies. More than 550 companies around the world take advantage of Visual Next s advanced ERP, PLM, Supply Chain Management, Warehouse Optimization, Business Intelligence Software and more. To learn more, visit www.visualnext.com
Release ID: 490983