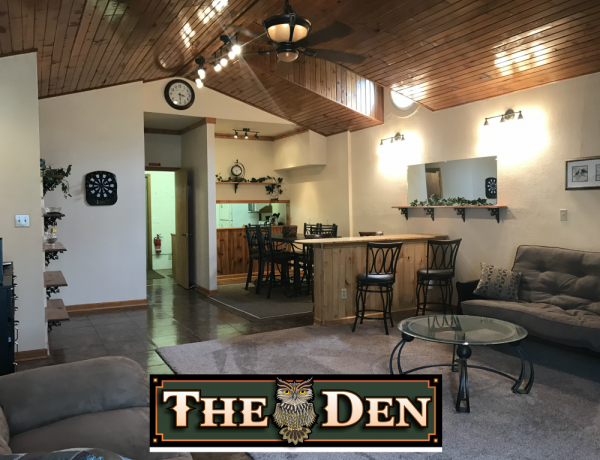 - April 6, 2017 /PressCable/ —
Visitors to the Attica Badlands Off Road Park and Badlands, Attica in general, now have a new place they can call home while in the area. A newly remodeled and furnished vacation rental is now available in the town of Attica, Indiana and in route to the Badlands ATV Park.
The Den can sleep up to 10 guests and offers a large parking area which is critical for most visitors to the park. The Den is a former local business and as such the parking area is the perfect amenity for those pulling trailers into town with Off Road machines in tow. The vacation rental house itself offers plenty of room to unwind along with two full bathrooms. Amenities such as a high speed WiFi network and flat screen televisions make it a great place for trail weary guests to relax after a long day at the park.
When asked about how she came up with the idea for The Den, the owner, Jennifer Cunningham had this to say. "The Den at 710 S. Perry has been a few different businesses throughout it's existence. When I moved my salon services to another location I originally planned to turn it back into a house and sell it. However, I was out for a run one morning and the idea came to me, why not turn this into a fully furnished vacation rental for Badlands visitors and anyone else coming to our town for various events? So The Den was conceived on my morning run!"
Attica, Indiana is a small town along the Wabash river in Fountain County that offers plenty of small town charm along with a few local festivals. The main draw these days however is the Badlands Off Road Park which brings thousands of visitors to the area each year to partake in off road trail riding and is the top off road park in the Midwest. Visitors come from all over the United States to visit this place.
The owner of The Den said, "Our vacation rental house is newly furnished, newly decorated and newly renovated and I still cannot get over what a transformation this has been. I am thrilled with how the home has turned out. I know that everyone who stays here will love it."
The Den is available to rent now not only for those visiting Badlands, Attica, but also for anyone visiting the area that needs a fully furnished vacation rental. For availability, pricing, booking and more information visit AtticaDen.com or call (765)585-2191.
Release ID: 183737