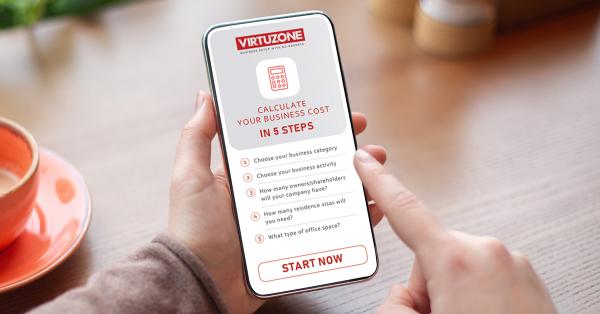 - September 16, 2021 /PressCable/ —
The UAE's leading company formation specialists, Virtuzone, have announced the launch of its new Business Setup Cost Calculator, which went live on September 11, 2021. For anyone who is planning to start their own company in the UAE, this new feature allows you to get an estimate of your business setup cost based on your specific requirements.
Currently, the majority of companies providing business setup services offer generic information and pricing that do not really meet the unique needs of aspiring entrepreneurs. Chairman and Co-founder at Virtuzone, Neil Petch, says, "Things are going to change with the launch of our Business Setup Cost Calculator."
Neil Petch continues, "Where you'll always see our competitors doing the same old thing, we will provide a clear and objective estimate of business setup cost, thereby removing one of the biggest reasons aspiring entrepreneurs are hesitating to take the leap: the "unknown" cost of setting up their business. We do this because we believe in equipping aspiring entrepreneurs with the knowledge they need, so they can finally get started on their business journey. Ultimately, this is going to be a game changer for our customers because they can easily get the information they need, which helps simplify their decision-making process."
Established in 2009, Virtuzone has helped over 60,000 individuals realise their dreams of becoming entrepreneurs over the last 12 years. The Dubai-based company has always aimed to make the business setup process simpler, easier and faster, so their clients can focus on growing and running their companies instead.
In addition to accelerating the company formation process in the UAE, Virtuzone provides a complete range of business support services that meet the various operational requirements of their clients – from accounting, bank account opening and VAT registration, to mail management, IT support and receptionist services.
To find out more information about Virtuzone's Business Setup Cost Calculator, please visit https://calculator.vz.ae/
Release ID: 89045679