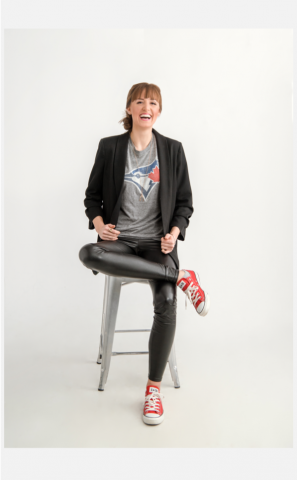 - May 23, 2021 /PressCable/ —
Growth strategist, female futurist and impact speaker, Lindsay Angelo has launched a new keynote address, designed specifically for virtual delivery, entitled 'Unlocking The Post-Pandemic Consumer'.
More details can be found at: https://lindsay-angelo.com/speaker
The new keynote was developed to help businesses better understand consumer trends resulting from the global pandemic, and how to leverage those trends and drive growth.
Whilst e-commerce was a major and increasing part of global consumer activity prior to 2020, the events of the past 12 months saw e-commerce reach into the realm of everyday items such as groceries and toiletries.
Consumers' spending habits underwent a measurable change in 2020, and with that change came a shift in less measurable aspects: consumer attitudes. Lindsay Angelo's new keynote address explores the evolving emotional nature of post-pandemic consumers and how businesses can adapt.
Lockdowns and social distancing practices gave people more space and time to reflect. Lindsay's new talk explains how this has given rise to what she describes as a 'self-actualization economy'.
The keynote explains the impact that this is having on consumer activity and its business implications.
Throughout 2020, many keynote speakers adapted in-person presentations for use in a virtual environment. However, Lindsay Angelo's latest series of keynotes were designed specifically for online delivery. Much like online shopping, attitudes towards virtual keynote talks saw a marked change through 2020, and Lindsay is now working to develop a range of sessions that have been created with virtual audiences in mind.
Named a top innovation leader and Woman to Watch by 425 Magazine, Lindsay has a wide range of professional experience that includes entrepreneurship, strategic marketing and advising. Lindsay has worked with the LEGO Group, Unilever, lululemon, WeWork, World Business Research and others. She most recently delivered a TEDx talk on how brands can thrive post-pandemic and she is active on Instagram and Twitter with the following handle: @lindsangelo
Trina Notman, President of the BC American Marketing Association, stated: "Lindsay's opening keynote was terrific – she engaged everyone instantaneously and her topic was insightful, relevant to the times and a wonderful resource for marketers. She was able to adapt to a virtual format seamlessly and was super easy to work with."
An example of a recent TEDx talk by Lindsay can be viewed here: https://lindsay-angelo.com/thinking
Release ID: 89017768