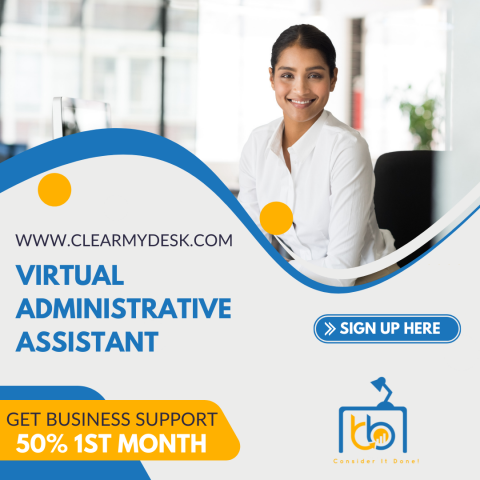 - December 10, 2021 /PressCable/ —
The new program connects overwhelmed professionals with highly vetted assistants, whose personalities and work ethics are carefully matched with the client. The virtual assistants can be trained on any system and any level of responsibility.
To learn more, visit https://www.clearmydesk.com
The program was launched to make use of the online infrastructure that has been established over the course of the pandemic. These tools also solve several productivity issues that have always plagued the world of the office worker. By removing the assistant from the office ecosystem, they are also removed from the many distractions that come with the setting and can focus more fully on the task at hand.
In fact, one study conducted by the Bureau of Labor found that, on average, workers on an 8-hour day were only productive for about 3 of those hours. The remaining time, they found, was spent on various news websites, social media, and in-office breaks.
With that statistic in mind, Clear My Desk's program becomes a no-brainer. An assistant can compensate for this loss of productivity while also freeing up schedules to take on bigger, more important tasks. An added bonus of this particular program is that it cuts out the process of hiring a qualified candidate, as that part of the process is already complete.
The matching process begins with a complimentary discovery call, during which the client's needs are assessed. Based on this call, the company will select from a list of qualified candidates and find one that has the necessary skill set to complete the work at hand.
To book a discovery call, visit https://calendly.com/businessbuddyinc/vaa-discovercall?month=2021-12
Clear My Desk is offering welcome benefits to new customers with 50% off the first month. They also offer tiered packages to ensure that the level of service they provide is comparable to the needs of the client.
One satisfied customer had this to say about their experience: "Clear My Desk Virtual Assistant Services is a business resource you have to have. My Virtual Administrative Assistant is reliable and efficient. She saves me from being overwhelmed and falling behind."
To find out more, visit https://www.clearmydesk.com/virtual-assistant-pricing
Release ID: 89056320