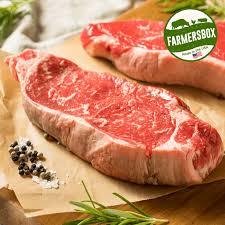 - November 3, 2020 /NewsNetwork/ —
Farmers Cart has launched its online sales of all-natural grass-fed protein products. The company specializes in grass-fed beef, and pasture-raised pork.
More information is available at https://www.farmersbox.com/?aff=A3961703.
The newly launched service prioritizes healthy protein products. All beef products are made with 100% -grass-fed, grass-finished ultra-premium beef. One of Farmers Cart's most popular beef product is its 1 lbs pack of 5.3oz patties. The product is an excellent choice for grilling out and have a delicious taste whether cooked over a fire, in a smoker, or in a skillet. A 1 lb pack contains three patties.
Another popular beef product is the company's grass-fed grass-finished ground beef sold in a 1 lb package. It is balanced at 80% lean and 20% fat blend to create a delicious and flavorful taste. It is also an excellent choice for frying together with tacos and can add flavor and nutrition in casseroles.
Farmers Cart also carries a wide selection of grass-fed pork products. The company uses 100% Berkshire Pork from farmer-owned sustainable US farms. Its pork gets its flavor from the heirloom breed that has been bred and raised for its distinctive color and marbling, two traits that make the pork tender, juicy, and flavorful. All pork is sourced from farms practicing humane animal husbandry and earth-friendly production.
The company's pork products are gluten and MSG free and are easy to implement into a celiac or gluten-free diet. There are also no added nitrates, other than those that naturally occur in celery salt. As well, no added hormones or growth promotants are used in any products. The products are also all hand inspected to ensure the highest meat quality. Two of the most popular pork products are the 10 oz bone in pork chop and the 12 oz uncured Applewood smoked thick-cut bacon.
Farmers Cart stands behind its products and believes that the best-tasting meats come from happy, healthy animals raised on high-quality pasture. All its beef is raised on fresh grass and clover using rotational grazing methods with no confinement or no grain.
For more information about Farmers Cart visit the website listed above or call 1-800-281-0614.
Release ID: 88983915