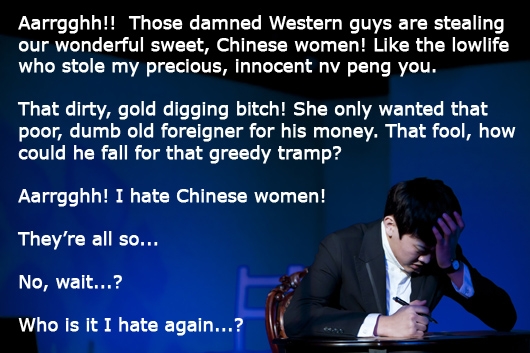 - July 17, 2015 /PressCable/ —
A rant against foreign men and Chinese women dating each other has reared its ugly head across China on WeChat. It got the attention of a writer for The Beijinger website and the owner of popular international Chinese dating site, ChinaLoveMatch.net, John Abbot; neither man was pleased. Mr. Abbot, who has been married to his Chinese wife for more than 8 years, has responded to the aforementioned article. where the said rant was featured on his blog "So Chinese Women are Gold Diggers and Foreign Men are Losers? ", and describes the rant as reeking of "anti-laowai, racist propaganda and sexist hogwash"
The blog may raise some eyebrows as it may seem self-serving, considering that John Abbot runs a dating site that caters to foreign men and Chinese women; but upon reading the original rant and the points that Mr. Abbot makes, it becomes clear that Mr. Abbot has many good reasons to feel irked and why such trending material needs to be immediately and properly addressed and the ideas it wants to promote, extinguished.
In his blog, Mr. Abbot calls out the ranter on the embitterment and spite that obviously fuel his tirade:
"It's pretty obvious how this ranter feels towards foreign men that date Chinese women and vice versa. It's pretty obvious that he doesn't think too highly of the women of his country but, at the same time, he believes that foreign men are exploiting Chinese women. He is suspicious of foreign men's intentions when it comes to dating the women of China; but he also encourages the women to take advantage of foreign men! This ranter is, in my estimation, one, contradictory and messed up dude!"
Mr. Abbot also concedes that there are male expats in China that do fit the stereotype of the "player and untrustworthy laowai," but he also points out that there are far more who work in China and date and marry Chinese women for no other reason than because they simply love the country, its culture, and its people. And he is in a good position to say so, as CLM has become a genuine community of foreign men and Chinese women who are not only looking for love and a life mate, but where both groups are also able to make meaningful connections, exchange ideas, and learn about each other's cultures.
www.ChinaLoveMatch.net is owned and operated by CyberCupid Co., Limited, a Hong Kong Corp. Managing Director, John Abbot, is currently travelling but can be contacted by telephone at 852-8198-2792. Leave a message and he will get back to you as promptly as possible. Email John at Service@ChinaLoveMatch.net and write "Attn: John Abbot" in the subject line.
Release ID: 86939