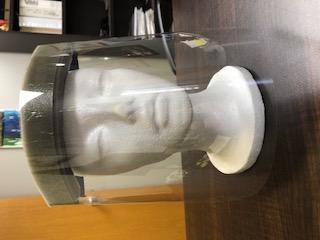 - April 6, 2020 /PressCable/ —
Vinyl Art's upgraded production facility recently began making face shields for the medical community as a way to contribute to the growing global demand caused by the COVID-19 pandemic.
"It's a product we're perfectly positioned to make," says Vinyl Art President Tim Hitchings. The company has been in business for more than 40 years, supplying vinyl and plastic protective products. "We found we were quickly able to create our own die for manufacturing. Because of our long-established relationships and U.S. supply chain, we were able to obtain a specialty PE product to configure what's necessary to produce these important protective face shields for the medical community," Hitchings explains.
Traditional sources that manufacture face shields are unable to keep up with global demand. As a result, leaders around the world have stepped forward and asked the public to help. One recent example reported by CNN on March 28 was Ohio Governor Mike DeWine's request for any manufacturers who could help produce critically needed personal protection equipment for his state's healthcare workers to contact his office.
"It should be no secret to anyone that we have a real, real shortage," he told reporters. "We received our share from the national strategic stockpile. But just like every other state, it was simply not enough." Face shields are among the top 10 items DeWine says his state – as well as many other states and countries around the world – needs.
Vinyl Art was already designated as an essential service, which meant that it would continue to operate even after the stay-at-home executive order went into effect for the entire state of Minnesota through April 10. The company plans to produce as many face shields as it can with the materials it has on hand and can access.
Face shield production will join the manufacturing projects Vinyl Art already undertakes for its clients, which range from large retailers needing point-of-sale and merchandising material, to financial and healthcare organizations looking for ways to creatively present and protect presentation material.
"The top priority remains the safety of our people," says Hitchings. "Next, it's taking advantage of our production equipment's capability to create something that's crucial to the health and safety of the professionals who are putting their lives on the line during this global pandemic."
Moving into its fifth decade of operation, Vinyl Art has created flexible protective packaging solutions for a wide variety of industries. "This is a new direction for us," says Hitchings. "We're ready and honored to do our part."
For more information about the face shields or to place an order, contact Vinyl Art directly at 800-569-1304.
About Vinyl Art: Vinyl Art specializes in custom flexible packaging and retail merchandising products. Manufacturing is done in-house on state-of-the-art equipment, creating products proudly made in America. Their manufacturing capabilities include foil stamping, debossing, screen printing, and vinyl custom designs/colors/textures.
Release ID: 88952328