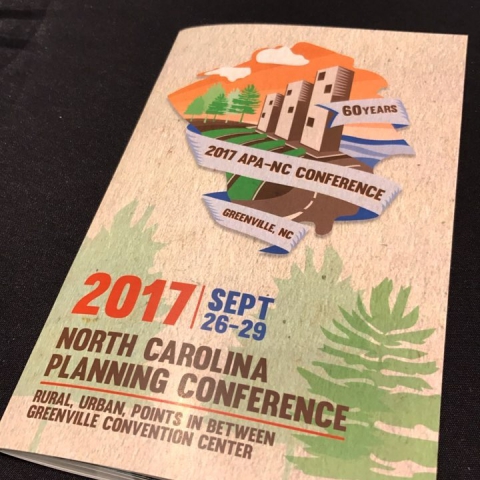 - October 14, 2017 /PressCable/ —
City planners attending the 2017 North Carolina Planning Conference on September 28, 2017 were met with an action-packed agenda of continuing education topics.
One session that drew a lot of interest was Drones: Possibilities and Limitations for Planning Projects. Local Wilmington drone company, Fly4Pix, was invited to appear on the panel, which discussed key issues such as: the use of drones to provide information and assist with public processes, and increased regulations and limitations of drones for commercial use.
When asked about the reasons behind supporting and participating in this event, Christy Borst, Fly4Pix Manager, said: "We were invited by Roger Waldon, FAICP of Clarion Associates to be on the panel for the session and present some examples of work we have done and can do for municipalities throughout the state."
One hot topic for attendees was questions regarding the education and certification requirements for drone operators. To operate a drone for commercial purposes, users must adhere to the Federal Aviation Administration's operational rules and regulations. It is the responsibility of the Federal Aviation Administration to ensure that all drone operations are flown safely and responsibly. North Carolina officials have recently amended existing laws to focus legislation efforts on safer practices and procedures for drone operators. A commercial drone operator must be certified, commonly known as a Part 107 license, and follow any additional state or city regulations.
The panel discussed the growing demand for aerial photography, both in the public and private commercial sectors. Fly4Pix representatives showed examples of projects such as beach re-nourishment, tourism, economic development, commercial real estate, shipping and structure inspections. The Fly4Pix website has full details about their drone and aerial photography services. Interested parties can visit the website at: https://fly4pix.com/.
Full details on the event can be found on the planning organization's website at http://apa-nc.org/.
Release ID: 250343