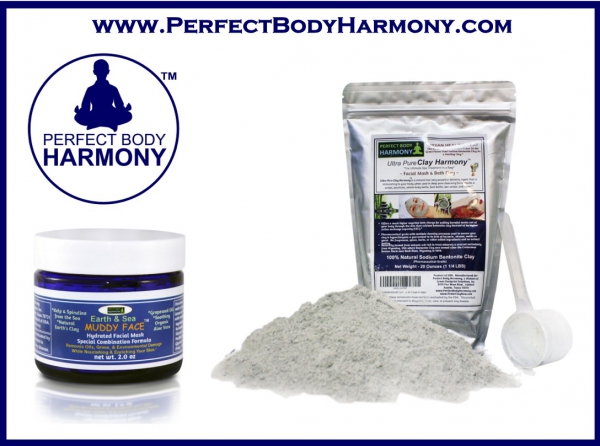 - September 2, 2016 /PressCable/ —
Perfect Body Harmony™ (Austin, Texas) has announced the release of a new video showing how customers can get over 75 powerful spa quality facial clay mask for less than 50 cents each using the company's pharmaceutical grade bentonite clay. The short video that is just over 3 minutes long gives instruction on how easy it is to mix the 2 ingredient formula using filtered water and their powerful sodium bentonite clay. Sodium bentonite clay, according to their website, is considered by many people in the industry to be stronger than calcium bentonite clay. The video features the company's Ultra Pure Clay Harmony™ which they sell in an extra large 20 ounce bag also includes a long handled scoop for easy use. Jana Cobb, Co Founder of Perfect Body Harmony™, says that since many people also use this clay for foot soaks and full clay baths the 20 ounces per bag ensures that there is more than enough clay for trying both.
Cobb says that for a limited time they are offering a special discount coupon on the Ultra Pure Clay Harmony™ and the link for that will be available along with the video. Press release links do not last forever but as of publication date the video and special deal are accessable by clicking this link: http://UltraClay.PerfectBodyHarmony.com .
Cobb also said that their Ultra Pure Clay Harmony™ Bentonite Clay is one of the first products the company launched and is the cleanest bentonite clay the company could source to sell. She said that the clay is ultra fine, air cleaned, and pharmaceutical grade. She said that they have the product packaged in a food processing plant to ensure that it remains super clean throughout the process of packaging. The company also sells a pre-mixed clay in a 2.5 ounce jar which they call Muddy Face™.
Interested parties can find Ultra Pure Clay Harmony™ on Amazon by clicking this link: http://OrderClayNow.com .
Perfect Body Harmony™ sells and markets botanical based and organic skin care solutions on their website and on Amazon. The clay on their website store can be found by clicking this link: https://PerfectBodyHarmony.com .
The company likes to keep in touch with customers via their Facebook page as well as posting on Pinterest, Instagram, and Twitter.
Release ID: 130810